Lindsay Lohan jailed for just four hours
The troubled star has been released from the Hollywood prison after serving just over four hours of her 30-day sentence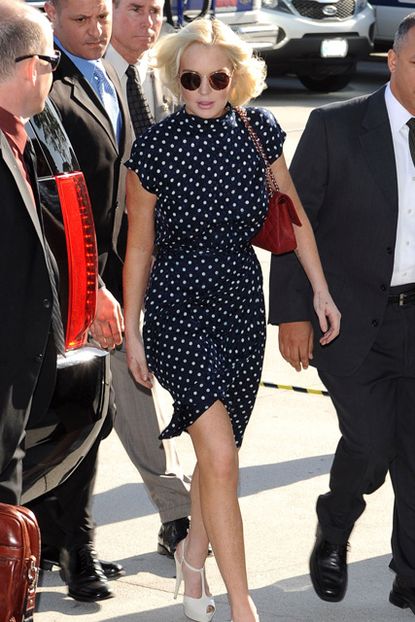 (Image credit: REX)
The troubled star has been released from the Hollywood prison after serving just over four hours of her 30-day sentence
Lindsay Lohan has been released from the Hollywood prison after serving just over four hours of her 30-day sentence.
THE DOWNFALL OF LINDSAY LOHAN - WHERE DID IT ALL GO WRONG?
The starlet has been given more get out of jail free cards than we can count. And now it seems she has been handed one in record time, just four and a half hours into her 30-day sentence!
The 25-year-old was sent to prison for a month for violating the terms of her probation and failing to keep up with her community service requirements.
This was after LiLo was accused of stealing a $2,500 necklace at a jewellery store near her home in January. Though the Mean Girls actress needn't have worried about money, as she was offered a $1 million for a nude photoshoot with Playboy just days before she went back to jail.
Due to overcrowding in the prison, Lindsay entered the Century Regional Detention Facility at 8.48pm and walked free by 1.30am.
Instead she will now have to serve the remainder of her time doing community service hours at the LA county morgue.
Predicting that Lindsay might not even spend a whole day in jail, Steve Whitmore, a LA County Sheriff spokesman said, 'It's possible she could be booked in and booked out the same day.'
The troubled actress will also have to attend 18 psychotherapy sessions. Should she not complete her probation in full this time, LiLo will be sentenced to an extra 270 days in jail.
THE DOWNFALL OF LINDSAY LOHAN - WHERE DID IT ALL GO WRONG?
Do you agree Lindsay should have been released early? Tell us what you think in the comments box below…
Celebrity news, beauty, fashion advice, and fascinating features, delivered straight to your inbox!