Lindsay Lohan facing 30 days in jail after failing drugs test
The sorry star took to Twitter to confirm the news, telling fans she is 'working hard' to overcome her addictions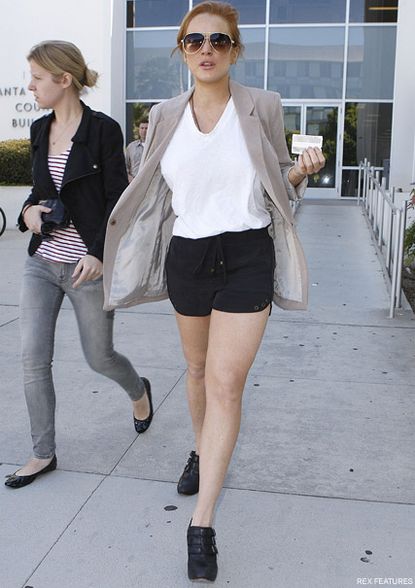 (Image credit: Rex Features)
The sorry star took to Twitter to confirm the news, telling fans she is 'working hard' to overcome her addictions
Troubled star Lindsay Lohan could face a return to jail for up to 30 days, after failing two drugs test last week.
SEE LINDAY'S CAREER IN PICS HERE!
Lindsay – who is currently undergoing daily drugs tests as part of her bail conditions – reportedly tested positive for cocaine, after being seen partying at a number of notorious Hollywood hotspots since her release.
And in an unusual move, the star took to Twitter to admit her actions and apologise to fans, confirming her substance abuse problems for the first time, and revealing she is 'working hard' to overcome the drug addiction.
To her credit, Lindsay also said she's 'prepared to face the consequences' if she's called to appear before a judge next week. 'Regrettably, I did in fact fail my most recent drug test and if I am asked, I am prepared to appear before judge Fox next week as a result,' Lindsay Tweeted in a statement.
'Substance abuse is a disease, which unfortunately doesn't go away over night. I am working hard to overcome it and am taking positive steps forward every day,' she added.
'I am testing every single day and doing what I must do to prevent any mishaps in the future. 'This was certainly a setback for me but I am taking responsibility for my actions and I'm prepared to face the consequences. 'I am so thankful for the support of my fans, loved ones and immediate family, who understand that i am trying hard, but also that I am a work in progress, just as anyone else. I am keeping my faith, and I am hopeful. Thank you all!!!'
What are your thoughts on Lindsay Lohan's latest news? Should the star return to jail, or should she be allowed to recover at home? Let us know in the comments box below.
Celebrity news, beauty, fashion advice, and fascinating features, delivered straight to your inbox!