Lea Michele, Cory Monteith & Chris Colfer NOT leaving Glee
Breathe a sigh of relief, Gleeks – our favourite trio will be back for season four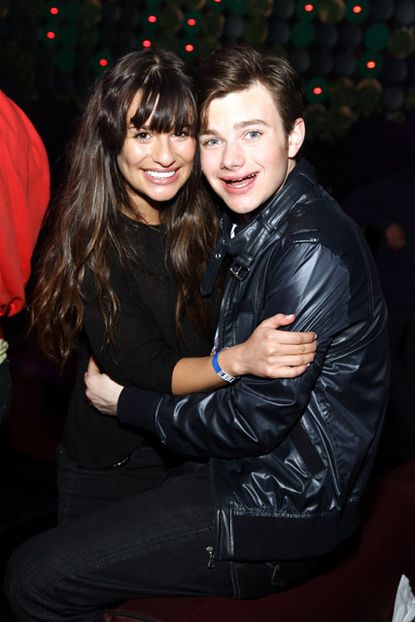 (Image credit: Rex Features)
Breathe a sigh of relief, Gleeks – our favourite trio will be back for season four
Breathe a sigh of relief Gleeks – it turns out Lea Michele, Cory Monteith and Chris Colfer will NOT be leaving the show after all.
According to execs at the Glee's Comic-Con press conference, our favourite trio are staying very much put into season four and beyond.
SEE ALL THE LATEST GLEE PICS HERE!
Rubbishing reports Cory, Chris and Lea were on their way out, Glee co-creator and exec producer Brad Falchuk told the Comic-Con crowd the characters are here to stay.
'Here's the exact thing: [Rachel, Kurt and Finn] are seniors, so they're graduating,' he told the audience (via TV Line), 'but because they're graduating doesn't mean they're leaving the show. If you have Lea Michele under contract, you don't say, 'We're gonna let you go.'
He added: 'A number of the original [cast members' characters] are not graduating this year.
'It was never our plan or our intention to let them go…. They are not done with the show after this season.'
Phew.
This (happy!) news comes just weeks after Glee creator Ryan Murphy appeared to confirm several key characters would be leaving the hit show and graduating next season.
Although execs were confirmed our favourite three are staying, unfortunately the news was not so good for newcomer Chord Overstreet.
'We did invite [Chord] back for a portion of the season … to see if being a regular was a possibility. But he declined the offer, which we were really disappointed by,' he added.
'We wanted him back because we like Chord personally and had some good stories planned for him and with Mercedes.
'He decided he would have opportunities elsewhere that he would like to pursue, and we can't force him to work, so we wished him well.'
Are you pleased Cory, Chris and Lea will be staying on the show? Let us know your thoughts in the comments box below.
SEE ALL THE LATEST GLEE PICS HERE!
Celebrity news, beauty, fashion advice, and fascinating features, delivered straight to your inbox!