LATEST! Proud David Beckham posts pics of pregnant Posh
With Victoria Beckham's baby due on Sunday, David shared a rare shot of his expectant wife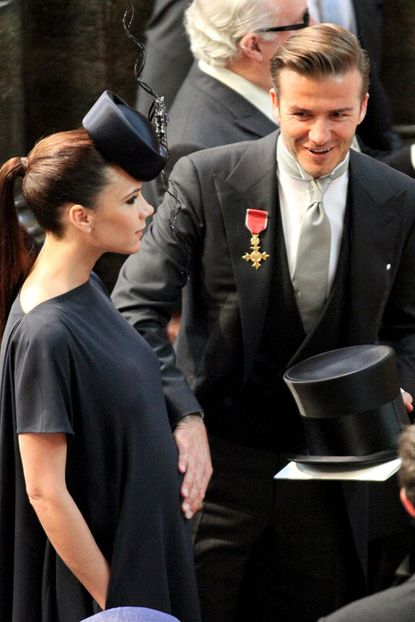 (Image credit: Rex Features)
With Victoria Beckham's baby due on Sunday, David shared a rare shot of his expectant wife
With Victoria Beckham's baby due in a matter of days, her proud hubby David has shared a sneaky shot of his heavily-pregnant wife, snapped when she wasn't looking.
SEE VICTORIA'S PREGNANCY STYLE PARADE HERE!
Becks posted the unusually intimate picture of blooming Mrs B on Facebook yesterday, ahead of the baby's birth on Sunday.
'Took this pic of Victoria while she wasn't looking,' he wrote to fans. 'She looks amazing, so close now to the baby being born!'
The chic black and white portrait shows the pregnant star relaxing in the sun, wearing just a black bandeau bikini top, flowing black skirt, and of course, the requisite sunnies.
But we're not sure Victoria herself will be too impressed with the stunning shot.
Just days ago the fashionista told US magazine Women's Wear Daily she wasn't a fan of posing for pictures while pregnant, and would certainly not be snapped showing off her bump.
'I'm not really one of those people that likes to go out and pose and flaunt being pregnant,' she said.
'Not like there's anything wrong in that. I'm so proud to be pregnant and I feel so blessed and so happy, I really do.
'But I'm just not that kind of person. So, no, I won't be taking my clothes off. I don't think anyone needs to see that, other than my husband. Absolutely not.'
Oh dear, David.
SEE VICTORIA'S PREGNANCY STYLE PARADE HERE!
DAVID AND VICTORIA BECKHAM: ROMANCE IN PICS
Celebrity news, beauty, fashion advice, and fascinating features, delivered straight to your inbox!