Kristen Stewart on being a vampire: 'I made embarrassing sounds, but I can be badass'
Kristen Stewart reveals 'it was scary' turning Bella Swan into a vampire for Twilight Breaking Dawn Part 2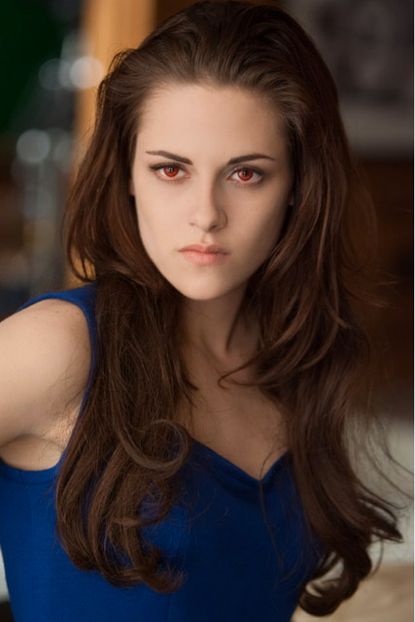 (Image credit: Summit Entertainment)
Kristen Stewart reveals 'it was scary' turning Bella Swan into a vampire for Twilight Breaking Dawn Part 2
Kristen Stewart makes her final appearance as Bella Swan in the eagerly awaited Twilight Breaking Dawn Part 2, but she's saved her best performance until last as she reveals the pitfalls of playing a vampire.
NIKKI REED: THERE WAS A LACK OF EMOTION WHEN TWILIGHT WRAPPED
In the previous Twilight film, Kristen's character was turned into a vampire to save her life, meaning that in the final installment of the franchise she had to adapt to life as a superhuman, and Kristen said it wasn't easy.
She told The Tonight Show with Jay Leno: 'It was scary, I made really embarrassing sounds the first time I did it. But then you get used to it. I can be badass after that.'
Judging from the film's trailer, that features lion wrestling, we imagine that fear may have come into it as well, but that wasn't the focus of things for Kristen.
KRISTEN STEWART DARES TO BARE ON RED CARPET
During the interview on the American programme, she couldn't help but express how much the ending of the saga meant to her, dubbing it 'shocking'.
'Every time I think about it [the ending] it gets me giddy,' she said. 'It freaks me out.'
And that wasn't all the actress wanted to tease Twihards with, she also promised the ending wouldn't stray too far from the book.
Kristen added: 'We're religious to details [from the book] it's easy to skim over but you can find the root of our little twist.'
We. Can't. Wait!
What do you make of Kristen Stewart's comments? Do you think she'll make a brilliant vampire? Let us know below.
Watch our exclusive interview with Kellan Lutz and Nikki Reed on the final film.
KRISTEN STEWART STYLE HIGHS AND LOWS
WATCH TWILIGHT CLIP OF KRISTEN STEWART TRYING TO BE A VAMPIRE 60 OF THE BEST QUOTES ABOUT TWILIGHT
Celebrity news, beauty, fashion advice, and fascinating features, delivered straight to your inbox!