Kim Kardashian surprised about pregnancy due to fertility problems
Kim Kardashian revealed it's a miracle she's pregnant as doctors told her she'd struggle to conceive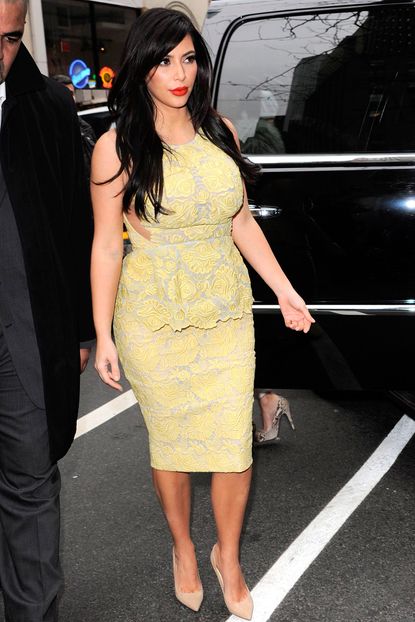 (Image credit: Rex Features)
Kim Kardashian revealed it's a miracle she's pregnant as doctors told her she'd struggle to conceive
Kim Kardashian has opened up about her ongoing fertilty problems and revealed that it's a miracle she managed to get pregnant.
The reality TV star was busy doing the media rounds in New York yesterday with older sister Kourtney Kardashian, to promote their upcoming season of Kim and Kourtney Take Miami, and there was only one topic everyone wanted to talk about: Kim and Kanye West's baby.
Kim, 32, spoke of her surprise at getting pregnant and explained that due to fertility issues doctors had told her that she'd struggle to conceive.
KIM KARDASHIAN'S PREGNANCY SET TO EARN HER $10 MILLION
'It's kind of a miracle that I even got pregnant. Khloé has been very open about her fertility issues and I think I was always really kind of quiet about mine, and I have similar issues, and so it was a pleasant surprise when so many doctors were telling me one thing and then the opposite happens,' Kim told Today show host Savannah Guthrie.
'That's an exciting moment, you can plan for things like that. So I think it's just such a blessing, knowing my circumstances.'
She added: 'I think until I really start seeing, like, a belly, it won't really sink in. It's just like a weird realisation until you really start seeing the physical changes and every day's different.'
Kim, who is still in the process of divorcing husband Kris Humphries, also chatted about her plans to marry rapper Kanye.
She said: 'It's something that we talk about, but I think it's just right now [we're] focusing on the baby.
'What I've learned in life is - I was always such a planner, and… you think your life is going to be a certain way, and the best surprises just happen when you don't plan.'
Watch Kourtney and Kim cause chaos as they arrive at the Today studios in NYC:
KIM KARDASHIAN'S PREGNANCY SET TO EARN HER $10 MILLION
KIM KARDASHIAN OFFERED $250K TO DOCUMENT PREGNANCY
KIM KARDASHIAN: KANYE WEST HAS NO SAY IN KARDASHIAN KOLLECTION
Celebrity news, beauty, fashion advice, and fascinating features, delivered straight to your inbox!