Katy Perry talks about Russell Brand split as she hits Paris Fashion Week
The singer has said that her music is about to get much darker after her divorce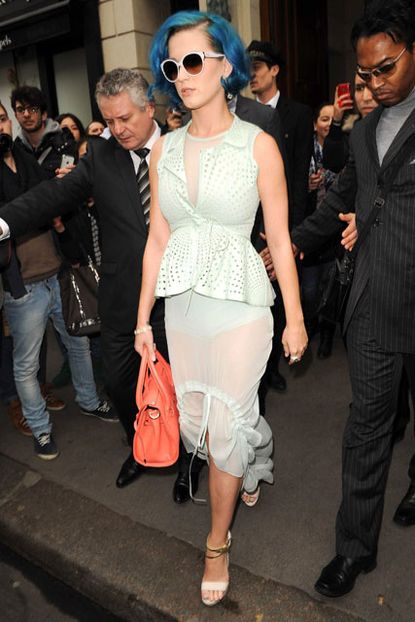 (Image credit: Rex Features)
The singer has said that her music is about to get much darker after her divorce
Katy Perry turned heads as she arrived at Paris Fashion Week with her underwear on show in an extremely sheer skirt, but her split from Russell Brand is still the only thing everyone is talking about.
The singer looked gorgeous as she left her Parisian hotel in a mint green ensemble from Vera Wang's Spring 2012 Collection.
And her style choices got even better when later in the day she changed into a mini Balmain dress for Karl Lagerfeld's party for Hogan.
But as always all anyone wants to talk about is her recent divorce from her husband of 14 months, Brand, and, in a recent chat with Interview magazine, she was happy to oblige.
KATY PERRY LOOKS BETTER THAN EVER IN NEW MAGAZINE SHOOT
The 27-year-old warned fans that her music, which is normally lighthearted and silly, was about to radically change in light of her failed marriage.
She said: 'My music is about get real f**king dark. I'll be shoe-gazing. You'll never see my face because my hair is in my face.'
Perry also denied that her new song, Part of Me, which features man-bashing lyrics like, 'You can keep the diamond ring - it don't mean nothing anyway,' isn't about her ex.
'I wrote Part of Me two years ago and I always knew that Part of Me was a special song.' she said.
''It feels like my life plays out with these songs. I feel like I'm in some kind of weird Truman Show, where I'm like, "Why is this single appropriate now and it wouldn't have been appropriate then?" It's just so crazy.
'I guess the universe is kind of... we're kind of like, dancing together in some weird way... I think it's really important for me to write songs that are still honest and relatable because that's what everyone else is going through.'
What do you think of Katy Perry's sheer Vera Wang look? High fashion or too revealing? Let us know in the comment box below...
Celebrity news, beauty, fashion advice, and fascinating features, delivered straight to your inbox!