Kate Middleton And Prince William Are Now On The A-List With The Beckhams
Kate Middleton and Prince William's celebrity status is just as epic as Victoria and David's. And here's why...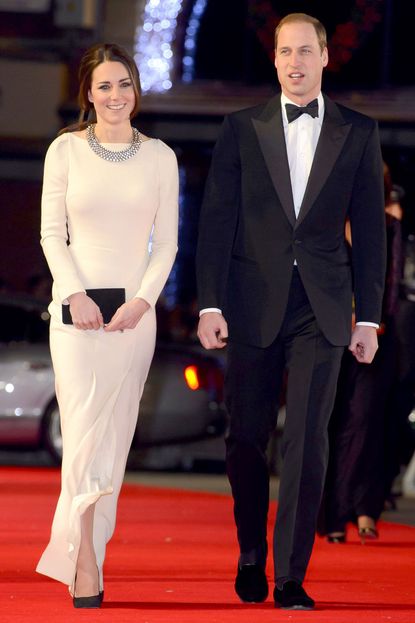 (Image credit: Rex)
Kate Middleton and Prince William's celebrity status is just as epic as Victoria and David's. And here's why...
Kate Middleton and Prince William have found themselves being compared to Victoria and David Beckham once again, with their A-list status becoming the subject of new discussions.
Talking about the Duke and Duchess of Cambridge's 'ordinary' ways, historian and writer Christopher Lee has likened the royal couple to Posh and Becks.
'I don't think they rate with the Beckhams, but I put them in that slot,' Lee told the Daily Mail. Explaining that, in his opinion, Kate and Wills don't have the 'gravitas' to be anything other than celebrities.
Famed for writing The Sceptred Isle, an award-winning history of Britain for BBC Radio Four, Lee's latest comments follow controversy surrounding thoughts shared in his book, Monarchy Past, Present… And Future?, where he said Prince George would never be King.
Talking about the baby Prince, he wrote: 'He may have some public role in 50 years' time but I don't think it will be the traditional King of England role.'
'Since the Victorians, the royals have had a glamorous and imperial air and I don't think that will exist when William gets to the throne, while Catherine will be not quite mumsy, but dull,' he continued.
'I think the gloss is wearing off her now. There's nothing exciting about the couple. And as they approach middle age, the public will get used to a nation of euro-royalty in the Danish, Dutch and Belgian mould — nice people but rather dull and inoffensive.'
The former BBC defence correspondent does have plenty of praise for William's father, the Prince of Wales: 'He will be a much, much better King than any of us believe. Forget about courtiers squeezing his toothpaste for him, this is a very intelligent man who questions the world around him.'
Meanwhile on the morning that marks Kate Middleton's 1000 day as the Duchess of Cambridge, royal reporter Richard Palmer says: 'With the monarchy in transition, we're likely to see William, Kate and Harry taking on more responsibilities and filling the gap.'
Got a tablet? You can now download Marie Claire magazine straight to your iPad, Kindle (just search the store for 'marie claire magazine'), Nook or Google Nexus.
Celebrity news, beauty, fashion advice, and fascinating features, delivered straight to your inbox!