Justin Timberlake and Mila Kunis' steamy MTV Movie Awards performance
The pair did nothing to dispel romance rumours as they got up close on personal on stage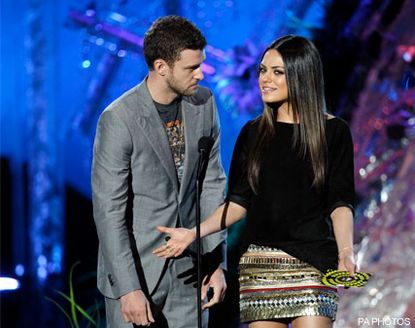 (Image credit: PA Photos)
The pair did nothing to dispel romance rumours as they got up close on personal on stage
Rumours of a romance have been circulating for a while. And Justin Timberlake and Mila Kunis certainly did nothing to dispel talk they're an item during a - how shall we put this? - interesting appearance at the MTV Movie Awards.
Addressing Hollywood whisperings, the cheey pair dropped a number of crypic hints as they stepped on stage to present Twi-star Robert Pattinson with his Best Male Performance Award.
SEE ALL THE MTV MOVIE AWARDS ACTION HERE!
And they just couldn't keep their hands off each other. Having a quick grope on stage, the Friends With Benefits co-stars poked fun at talk they are dating, but left us no closer to finding out exactly what's actually going on.
'Even though we're in the movie Friends With Benefits, Mila and I have never dated,' Justin smirked.
'We are like brother and sister', Mila agreed. 'We have a totally platonic relationship, which is why I can do this,' JT chimed in, grabbing Mila's breasts.
Grasping Justin's crotch, Ms Kunis also added: 'This is why I can do this!'
Right then.
The pair then got down to business, introducing nominees for the Best Male Performance category, and introducing Robert Pattinson as the winner.
Talk of a romance betweet Justin and Mila first began back in March, when the rumous mill was alight with talk Ms Kunis was behind JT's break-up with Jessica Biel.
'Justin is very interested in Mila. They've been flirting. But, so far, nothing has happened,' one insider reportedly revealed, after Justin spoke of filming steamy scenes with the Black Swan beauty.
'I think I could speak for all the men in the world when I say that's the easy part,' he joked. WATCH Justin and Mila in Friends With Benefits here...
What are your thoughts on Justin and Mila's raunchy MTV performance? Are they really an item? Let us know your thoughts in the comments box below.
SEE ALL THE MTV MOVIE AWARDS ACTION HERE!
Celebrity news, beauty, fashion advice, and fascinating features, delivered straight to your inbox!