X Factor judges go to war as Simon Cowell lifts the lid on rift
It's no secret things have been hotting up behind the scenes, and now Simon Cowell has lifted the lid on the rows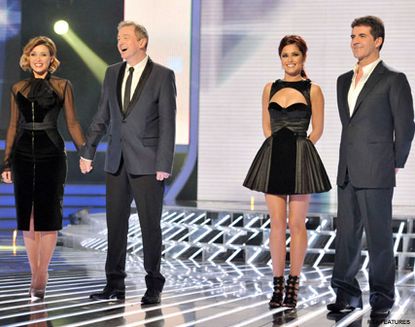 (Image credit: Rex Features)
It's no secret things have been hotting up behind the scenes, and now Simon Cowell has lifted the lid on the rows
It's no secret things have been hotting up behind the X Factor scenes, with rumours of a rift circling for weeks. Now Simon Cowell has lifted the lid on the rows, revealing there is a 'definite divide' between judges, and calling Cheryl Cole his ' best buddy'.
SEE ALL THE LATEST X FACTOR PICS HERE!
Just last week, Cheryl and Louis were said to be at loggerheads behind the scenes, after the Irish judge snapped at the songstress in front of cameras and the studio audience, telling her: 'I have an opinion. It's not all about you, Cheryl!'
Following Louis' initial outburst the claws were well and truly out, and he then branded Mrs C as 'trashy with a fake tan,' in an interview, prompting the furious singer to hit back he was 'a silly old man looking for attention'.
Now it seems the cracks are starting to show, with Saturday's show marred by constant bickering between the judges.
Show boss Simon Cowell further fuelled rumours of a divide, by revealing there is a 'definite divide' on the famous show's expert panel, and saying he is 'best buddies' with Cheryl.
'Look it's no secret me and Cheryl are best buddies,' he said. 'That is what Louis is angry about. Maybe I'm spending too much time sitting next to Cheryl and ignoring everyone else.
'It does get a bit like that some days because we are close. When I'm sitting next to her I forget everyone else.'
And it seems Simon's already turned his thoughts to America, appearing to confirm he'll be taking Cheryl Cole stateside when he launches the US version of the X Factor next year.
Silencing critics who've cast doubt on whether American viewers will understand the star's Geordie accent, he said: 'I think there is this fallacy that Americans can't understand accents. They can. There's all sorts of accents.
'I would never ask her to have elocution lessons. Ever. We'll probably put subtitles under her!'
Would you like to see Cheryl leave the UK for US X Factor? Or do you think she should stay on home turf? Let us know your thoughts in the comments box below.
SEE ALL THE LATEST X FACTOR PICS
Celebrity news, beauty, fashion advice, and fascinating features, delivered straight to your inbox!