'I'm happy' Jennifer Lopez tells guests at $1 million wedding gig
Less than a week after announcing the end of her marriage, the songstress has thrown herself into work…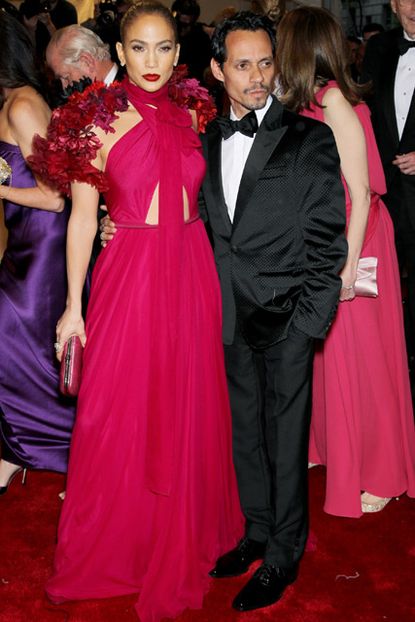 (Image credit: Rex Features)
Less than a week after announcing the end of her marriage, the songstress has thrown herself into work…
Break-up? What break-up? Less than a week after announcing the end of her seven-year marriage to Marc Anthony,Jennifer Lopez has thrown herself back into work, telling guests at a private wedding gig: 'I'm happy.'
JENNIFER LOPEZ & MARC ANTHONY: RELATIONSHIP IN PICS
Instead of cancelling her career plans and mourning the loss of her man, the super starlet got straight down to business following the split, flying out to perform a private concert in Ukraine.
According to Us Magazine, the lucky lovely landed herself a reported $1 million for the gig – at the wedding of the son of a Ukranian oil tycoon - flying in with a huge entourage and checking into a lavish $4,000-a-night hotel suite.
According to hotel staff, Jen was 'very pleasant' and 'smiled a lot,' even posing for pictures with fans, before heading out to sing at the high-security, 500-guest event, reportedly costing a whopping $15 million.
Must have been some wedding!
Onlookers say La Lopez was full of energy as she took to the stage, exclaiming: 'Are you happy? I am happy, because I am here with you today!'
Despite reportedly being 'devastated' by the split from her hubby, friends of the star say she is 'looking forward to the future.'
'She is jumping back into work and being a mom [to twins Max and Emme, 3] with all her energy and she is really excited,' the source added.
'She feels like she has grown leaps and bounds and is a new person now, better than ever''
JENNIFER LOPEZ & MARC ANTHONY: RELATIONSHIP IN PICS
Celebrity news, beauty, fashion advice, and fascinating features, delivered straight to your inbox!