Heather Locklear arrested for hit-and-run
The Melrose Place actress has been question after police after the alleged incident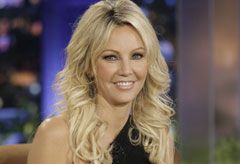 (Image credit: Rex Features)
The Melrose Place actress has been question after police after the alleged incident
Melrose Place actress Heather Locklear has been arrested for an alleged hit-and-run incident, reports suggest.
The beautiful blonde was taken into custody in Westlake, California, on Saturday.
Police were called by neighbours who heard a crash early in the morning. They also reported a 'No Parking' sign had been knocked down.
And reports reveal officers found evidence linking the crash to Heather's sleek black BMW during an investigation at the scene.
But a spokesman for the Westlake sheriff has played down the event.
'While Locklear was technically arrested, she was not handcuffed or taken to a station because it was just a misdemeanour charge,' Ross Bonfiglio told People.com.
'We don't have any hard evidence that alcohol was involved. We don't know if anyone was in the car with her at the time.'
Mysterious!
This is not the first time Heather has been in trouble over her driving.
The star is already on a three-year probation after being charged with reckless driving in 2008.
And Heather is just one of a list of Hollywood celebrities to be held over driving offences. Paris Hilton, Nicole Richie and Lindsay Lohan have all been charged in recent years.
Do you think celebs get off too lightly when it comes to the law? Let us know your thoughts below.
Celebrity news, beauty, fashion advice, and fascinating features, delivered straight to your inbox!