Harry Potter Deathly Hallows 3D film axed
Disappointed fans will miss out on seeing the latest flick in three-dimensional glory, after producers have been unable to convert it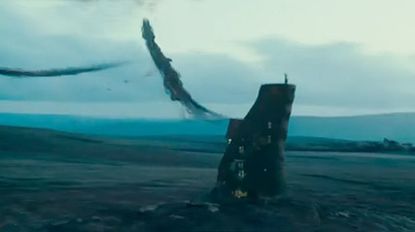 Disappointed fans will miss out on seeing the latest flick in three-dimensional glory, after producers have been unable to convert it
Thousands of disappointed Harry Potter fans will miss out on seeing the upcoming Deathly Hallows flick in three-dimensional glory, after producers have revealed they've been unable to convert it to 3D.
SEE ALL THE LATEST DEATHLY HALLOWS PICS HERE!
Just months ago, film bosses confirmed plans to release the much-anticipated movie in 3D, after the huge success of Avatar earlier this year.
But now they've been forced to backtrack on the decision, after producers revealed they would be unable to convert penultimate Harry Potter film in time for it's scheduled release on November 19.
'Despite everyone's best efforts, we were unable to convert the film in its entirety and meet the highest standards of quality,' Warner Bros Studios told fans in a statement.
But it's not all bad news. The famous film company has confirmed they still plan to release the final film: Harry Potter and the Deathly Hallows: Part 2 - due out on July 15 next year – to 3D.
It's thought the last-minute setback won't affect ticket sales for the new flick, with die hard fans pledging to see the film come rain or shine.
'People are going to Harry Potter primarily for the story,' a film expert told Reuters.
Were you looking forward to seeing Harry Potter and the Deathly Hallows in 3D? Let us know in the comments box below.
HARRY POTTER AND THE DEATHLY HALLOWS PICS
Celebrity news, beauty, fashion advice, and fascinating features, delivered straight to your inbox!