Marie Claire is supported by its audience. When you purchase through links on our site, we may earn commission on some of the items you choose to buy.
Miss Paltrow's set for music stardom, after bosses persuaded her to release a track from latest flick, Country Strong
Gwyneth Paltrow could be set for music stardom, after bosses persuaded her to release a track from her latest flick, Country Strong.
SEE GWYNETH'S STYLE HIGHS AND LOWS HERE!
The singing star – who already has one chart hit, a song from her 2000 movie, Duets – said she had no intention of taking up a music career, and was only recording the track for her new movie.
But after music bosses asked her to release the single she relented, and made a recording.
'I was just singing songs for the movie,' she told Entertainment Weekly of the recording.
'I think the original plan was they wanted the bona fide crew to re-sing our songs, and then when [Sony Music Nashville chair] Joe Galante heard it, he was like, "No, I want to release this as the single." I was like, "Excuse me please? What? What is going on?"'
Gwennie and co-star Leighton Meester donned their best checked shirts and country boots for the Nashville-set drama, which they filmed alongside gorgeous Garrett Hedlund and Tim McGraw.
The brand new flick sees Gwynnie play alcoholic singer Kelly Canter, who leaves rehab and hits the road with her manager hubby.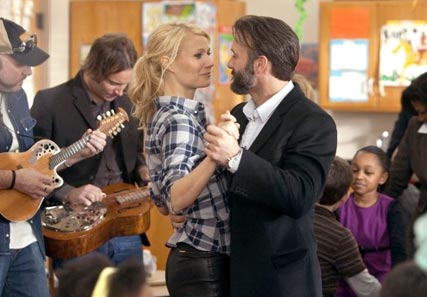 The pair plot to resurrect her failing career, but as usual, it's oh-so-complicated, and nothing goes as planned. Cue love interest Beau Williams, and Chiles Stanton, an ambitious ex-beauty queen.
Country strong is set to hit screens this December.
Could Gwyneth's country single become a chart hit? Let us know in the box below.