FIRST LOOK! Gossip Girl Taylor Momsen's shocking cover shoot
The star scantily clad star posed on the front cover of Revolver magazine, wielding not one, not two, but three guns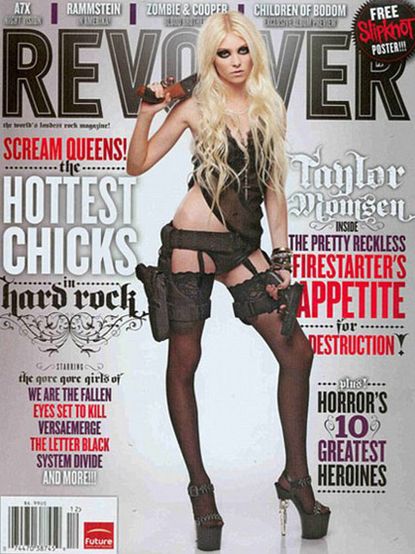 The star scantily clad star posed on the front cover of Revolver magazine, wielding not one, not two, but three guns
Gossip Girl turned teenage rocker Taylor Momsen is no stranger to causing controversy. Which is lucky, as her latest venture's bound to cause a stir. The star has turned cover girl for the latest issue of Revolver magazine, striking a scantily clad pose and toting not one, not two, but three guns.
SEE ALL THE LATEST GOSSIP GIRL PICS HERE!
Stripping down to a barely-there ensemble and donning just a sheer vest, suspenders and a scary looking gun belt, Taylor looks every inch the wild child in the magazine's November issue.
Sporting trademark, heavily kohled eyes and Perspex stripper heels, the star smoulders in the shoot, staring moodily into the camera.
But while she might like the outcome, we're sure Taylor's latest look won't endear her to critics, who have previously blasted the star for setting a bad example to young fans.
Earlier this year, Taylor caused outrage by revealing she had a collection of flick knives.
'I have a knife collection. I have my favourite black knife with me all the time. It's a switchblade,' she in a recent interview. 'It relaxes me to flick it. I close it and open it.'
Miss Momsen was also branded a 'brat' by Project Runway star Tim Gun, who blasted her for being unprofessional when they worked together on the Gossip Girl set.
'What a diva! She was pathetic, she couldn't remember her lines, and she didn't even have that many,' he said of acting with the star.
'I thought to myself, "Why are we all being held hostage by this brat?"
'I'd say: "You know young lady, there are hundreds of thousands of girls who are just as attractive and even smarter than you. Why are you acting like this show is a huge burden on you?"
'She was on her phone during every break, I wanted to tell her, "If you weren't on your BlackBerry, you could retain this stuff."'
What are YOUR thoughts on Taylor's controversial, gun toting cover? Let us know in the comments box below.
SEE ALL THE LATEST GOSSIP GIRL PICTURES HERE!
Celebrity news, beauty, fashion advice, and fascinating features, delivered straight to your inbox!