Grey's Anatomy star pregnant
Baby delight for Ellen Pompeo as she announces her pregnancy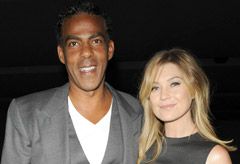 (Image credit: Rex Features)
Baby delight for Ellen Pompeo as she announces her pregnancy
Ellen Pompeo, best known for her starring role as Meredith Grey in hit TV show Grey's Anatomy, is pregnant with her first child with husband Chris Ivery.
Pompeo, 39, met music producer husband Ivery, 41, in a grocery store in 2003 and they started dating six months later, announcing their engagement in November 2006.
They wed in a surprisingly simple ceremony in November 2007, with the New York City mayor Michael Bloomberg officiating their low-key affair. She even snubbed the traditional white gown on her big day for a black Yves Saint Laurent dress and boots.
Pompeo's rep has said 'they're ecstatic' about the baby news. Pompeo realises motherhood will be a huge lifestyle change but as she told Allure magazine in October: 'We enjoy our life so much. So when I have a baby, I won't feel like we've missed any fun, reckless times together.'
Pompeo isn't the only Anatomy star to be expecting, as fellow co-star Chyler Leigh, 26, who plays Pompeo's on-screen half-sister is set to give birth in May to her third child with actor Nathan West, 30. The couple already have son Noah Wilde, 5 and two-year-old daughter Taelyn.
ARE YOU A TWITTERER? FOLLOW US HERE
Celebrity news, beauty, fashion advice, and fascinating features, delivered straight to your inbox!
Natalia is a health journalist with 14 years experience in the publishing industry. She has worked for a number of well known magazines and websites including Marie Claire, Woman&Home, Top Sante, Boots and The Telegraph. She likes to think she practices what she preaches when it comes to health and fitness. Her athletic prowess began early. A keen fencer for 13 years, she wielded an epée for Olympic Team GB during her teenage years. She likes to think she made sword-fighting cool before Game of Thrones came along! While working on her sporting performance with the team, she also participated in a lot of nutrition and psychology training, When it comes to time off, you'll most likely find her up a mountain somewhere. It seems holidays have become a time for climbing several thousand feet, rather than chilling out. She's now hiked eight of the major mountain ranges across four continents – including the Appalachians, the Smokies, the Sierra Nevadas (she spent her honeymoon hiking to the top of Half Dome), as well as hitting the summits of Snowdon, Pen-Y-Fan (Brecon Beacons), Table Mountain in South Africa, the Blue Mountains in Australia and the Atlas Mountains in Morocco. She's also passionate about all things health, particularly vaccinations, and will happily jump on her soap box at any given opportunity to talk about their benefits to anyone who will listen!