Gamu Nhengu to sing at MOBO Awards?
The rejected X Factor contestant is reportedly in line to duet with JLS during tonight's prestigious show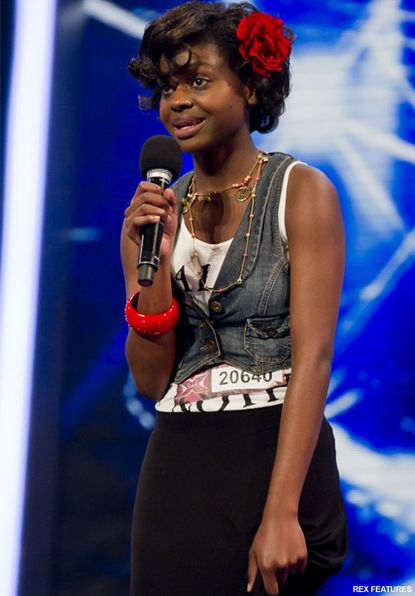 (Image credit: Rex Features)
The rejected X Factor contestant is reportedly in line to duet with JLS during tonight's prestigious show
Rejected X Factor contestant Gamu Nhengu is in line to sing at the MOBO Awards tonight and could even duet with JLS, according to reports.
SEE GAMU IN THE X FACTOR'S FINAL 32 HERE!
Organisers are frantically trying to persuade the 18-year-old to take to the stage during the prestigious show tonight, and are said to already have booked her into a hotel near the venue, Liverpool's Echo arena.
Insiders have revealed that the African singer may even be 'teaming up with a mystery guest' for the performance, sparking rumours of a collaboration with 2008 X Factor runners up, JLS.
'This is the first big thing for her since all the drama so she is really nervous,' an insider told the Metro. 'Organisers really want her to show up as she is so popular.'
But despite the hype, it seems show bosses still don't know for sure if the star will show.
'We don't know until the show starts whether Gamu will agree to sing or not,' the source added.
'She is expected to join lots of big names on the red carpet. We hope she doesn't get scared and back out.'
Taking to the stage tonight would mark Gamu's first public outing since her untimely exit from the X Factor, when judge Cheryl Cole sparked outrage for dropping the singer before the show's live rounds.
And in the following weeks the 18-year-old attracted yet more attention, when immigration officials revealed she had been ordered to leave Britain after her visa application was denied.
But Gamu has already revealed plans to fight deportation, adding that she still wants a musical career.
'I still want to be someone, to do something, to be talked about,' she said during a recent interview. 'I want people to say they did this to her, and she still came back. Hopefully, it will be an inspiration to other people.'
Would you like to see Gamu take to the stage at tonight's awards show? Let us know your thoughts in the comments box below.
Celebrity news, beauty, fashion advice, and fascinating features, delivered straight to your inbox!