FIRST WATCH: Mission: Impossible 4 trailer
Ethan Hunt is back – and you can see him here!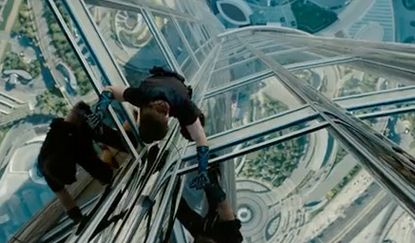 Ethan Hunt is back – and you can see him here!
Tom Cruise fans, we have a treat in store. With the fourth Mission Impossible movie well on the way, we've been waiting patiently to sneak the very first peek at the film. Now the trailer has finally landed, and you can watch it HERE!
MORE DRAMATIC MOVIE MAKEOVERS!
It's been five years since the last dramatic movie, but now Ethan Hunt is back, in the franchise's fourth installment - Mission: Impossible - Ghost Protocol.
And if the trailer is anything to go by, the new movie is packed with more death defying stunts, dramatic chases and amazing explosions than ever.
It certainly had us on the edge of the seats.
Filmed on location in Dubai, some of the scenes see ambitious Mr Cruise scaling the eye-wateringly high Burj building, with just a sole safety harness for support.
Speaking of how Tom loved the filming the action parts the most, director Brad Bird told MTV: 'He actually lives for that stuff. He loves it. Loves it.
'The day we finished shooting on the Burj, everyone suddenly relaxed because nothing had happened, no one had gotten injured or died, and the only one who was bummed out was Tom because he had to come down from the building. He loves that stuff.'
WATCH the new Mission Impossible trailer here…
Are you looking forward to Mr Cruise's new release? Let us know in the comments box below.
MORE DRAMATIC MOVIE MAKEOVERS
Celebrity news, beauty, fashion advice, and fascinating features, delivered straight to your inbox!