FIRST LOOK! Lady Gaga's controversial Judas video
Just when we thought we had heard it all from this infamous songstress, Lady Gaga has hit the headlines once again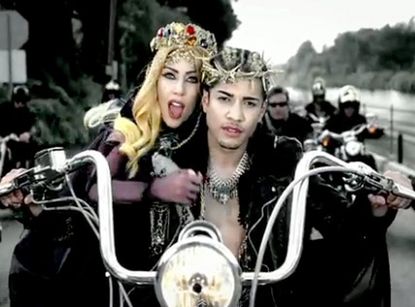 (Image credit: You Tube)
Just when we thought we had heard it all from this infamous songstress, Lady Gaga has hit the headlines once again
Just when we thought we had heard it all from this infamous songstress, Lady Gaga has hit the headlines once again, unveiling her controversial and long-awaited new Judas video.
SEE GAGA'S STYLE TRANSFORMATION HERE!
The five-minute long extravaganza, which reportedly cost an eye watering £6 million to make, begins with the starlet portraying disciple Mary Magdalene while riding on the back of a motorbike.
Packed with religious references, the Laurieann Gibson-directed video also features characters Judas (played by sizzling actor Norman Reedus) and Jesus, as well as numerous costume changes for the starlet, who has long flowing locks for the film.
The action-packed music video has already been slammed as 'blasphemous' by religious groups.
But the Lady has denied the much talked about video is a 'religious statement' or 'biblical lesson'.
'I don't view the video as a religious statement,' she told E! 'I view it as social statement. I view it as a cultural statement.'
WATCH the Judas video and decide for yourself here…
Judas features on Gaga's new Born This Way album, set to hit stores later this month.
What are your thoughts on Gaga's controversial new offering? Love or hate? Let us know in the comments box below.
SEE GAGA'S STYLE HIGHS AND LOWS HERE!
Celebrity news, beauty, fashion advice, and fascinating features, delivered straight to your inbox!