FIRST LOOK! Breaking Dawn Isle Esme movie still
Director Bill Condon treated fans to a romantically themed snap, as a special, Valentine's Day treat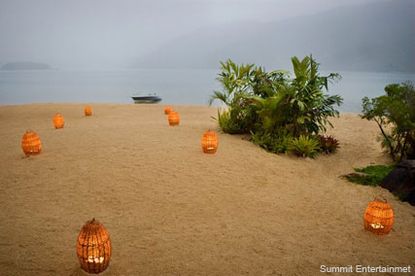 (Image credit: Summit Entertainment)
Director Bill Condon treated fans to a romantically themed snap, as a special, Valentine's Day treat
Cheeky Twilight director Bill Condon has a habit of sneaking fans special Breaking Dawn snaps on big occasions, so you can imagine our excitement, come February 14.
Although Robert Pattinson and Kristen Stewart are nowhere to be seen, bosses at Summit didn't disappoint, releasing the very first peak of romantic Esme Island, as a special Valentine's Day treat.
SEE ALL THE LATEST BREAKING DAWN PICTURES HERE!
The picture of the tropical paradise – where the hotly anticipated honeymoon scenes take place – was posted on the film's official Facebook page, along with the caption: 'Happy Valentine's Day from Isle Esme.'
True to form, the latest sneak peek doesn't give much away, but the mystical pic - which shows off a white sandy beach and glittering candles, to the backdrop of a sprawling mountain range – is enough to give us a taste of the tropical paradise.
With filming for the the final two Twilight movies full swing, we've already feasted our eyes on several steamy stills, as well as snaps of Robert and Kristen on location, hard at work on the movie.
Back in November, director Bill Condon teased fans by releasing a sneaky shot of an outstretched hand holding a feather.
And earlier this year, American magazine Entertainment Weekly published the first picture of newly wedMr and Mrs Cullen, snuggling up in bed on their honeymoon.
The first of the final two Twilight movies hits screens later this year.
What are your thoughts on the latest Breaking Dawn picture? Let us know in the comments box below.
SEE ALL THE LATEST BREAKING DAWN PICTURES HERE!
ROBERT PATTINSON AND KRISTEN STEWART: REALATIONSHIP IN PICTUERS
Celebrity news, beauty, fashion advice, and fascinating features, delivered straight to your inbox!