Marie Claire is supported by its audience. When you purchase through links on our site, we may earn commission on some of the items you choose to buy.
The US star is leaving the show after only one season, but who will step into her shoes?
US star Ellen DeGeneres has quit American Idol after just one series on the judging panel,
SEE ALL THE LATEST X FACTOR PICS HERE!
The star took up her spot on the hit series just last year, after bosses announced she had fought off Hollywood hopefuls to win a five-year contract on the show.
But now Ellen has handed in her resignation, claiming the job 'didn't feel like the right fit,' for her.
'A couple months ago, I let FOX and the American Idol producers know that this didn't feel like the right fit for me,' the star said in a statement.
'I told them I wouldn't leave them in a bind and that I would hold off on doing anything until they were able to figure out where they wanted to take the panel next.'
A busy work schedule is thought to be to blame for Ellen's departure, although she added she didn't like hurting contestants' feelings, which she felt was part of the show.
'It was a difficult decision to make, but my work schedule became more than I bargained for,' she said.
'I also realized this season that while I love discovering, supporting and nurturing young talent, it was hard for me to judge people and sometimes hurt their feelings,' she added.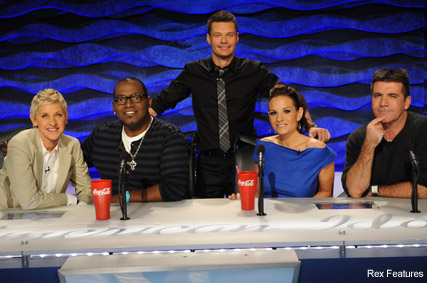 And already there are rumours of who will step into her shoes.
Latino lovely Jennifer Lopez is reportedly tipped for the role, and is said to have been in talks with Idol bosses for a months over a stint on the show.
'It's true,' one insider told American magazine, People. 'She's excited about it.'
Who do you think should step into Ellen's American Idol shoes? Would Jennifer Lopez be a good fit? Let us know your thoughts in the comments box below.
SEE ALL THE LATEST X FACTOR PICS HERE!