Elizabeth Olsen On Why She's Really Not Afraid Of Nudity
Marie Claire's June cover star Elizabeth Olsen has appeared naked A LOT and it's all because she's fascinated by women's sexuality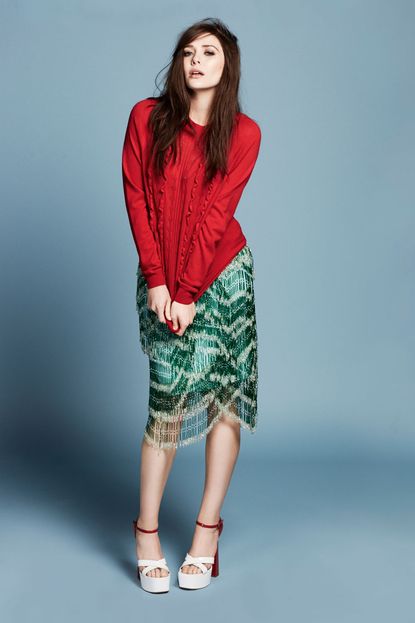 Marie Claire's June cover star Elizabeth Olsen has appeared naked A LOT and it's all because she's fascinated by women's sexuality
For one so early on in her career, Elizabeth Olsen has appeared naked rather a lot. But her decision to embrace nudity doesn't come from a desire to flaunt what she's got. No, there's much more to this rising Hollywood star than that.
Our June cover girl has appeared nude in everything from 2011 Sundance hit Martha Marcy May Marlene to her forthcoming movie In Secret - an adaptation of Emile Zola's 1867 novel, Thérèse Raquin.
When we chatted to Olsen, the younger sister of mega-famous twins Mary-Kate and Ashley, we discovered that her willingness to experiment with nudity comes from her fascination with women's sexuality.
She told us: 'Growing up, I don't remember anyone ever talking about sexuality. But I made Martha and I was taking feminism classes at college. I'm also fascinated by the politics of pregnancy; there are so many things people don't talk about with women's bodies. I feel like people are too scared to talk about it - at least in the States.'
She added: 'I feel more uncomfortable walking down a beach in a bathing suit with the wind blowing in my hair in a film than doing someting really screwed up that makes the audience feel uncomfortable. But I know a lot of people in my life don't agree with me.' As her movie career continues to grow - she's starring in new-release Godzilla and The Avengers: Age of Ultron - we get the feeling Elizabeth might tone down the nudity.
'The ultra-low-budget movies I get offered are either about incest or lesbians. I don't want to be known for that. I'm keeping my clothes on for a couple of years,' she says.
Read the full interview with Elizabeth Olsen in this month's issue of Marie Claire, available on newsstands now.
Got a tablet? Download our FREE sampler to try out our NEW LOOK Marie Claire, or get the May issue for ONLY £1.49 - available on iPad, Kindle (just search the store for 'marie claire magazine'), Nook or Google Nexus.
Celebrity news, beauty, fashion advice, and fascinating features, delivered straight to your inbox!