David Beckham to demand front cover apology for 'ridiculous' affair claims
The footballing star's on the warpath, after 'completely untrue' cheating allegations were published by US title In Touch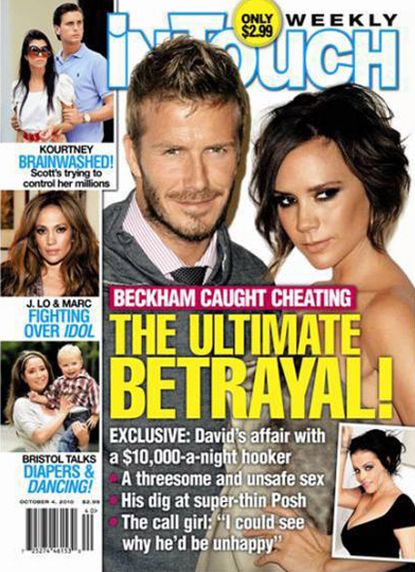 The footballing star's on the warpath, after 'completely untrue' cheating allegations were published by US title In Touch
Just days ago, David Beckham was forced to deny 'ridiculous' affair allegations, after claims he had a fling with a $10,000-a-night prostitute surfaced in a US magazine. Now the footballing star is taking legal action against In Touch, and will demand a front-page apology, according to reports.
SEE DAVID AND VICTORIA'S RELATIONSHIP HISTORY HERE!
When the news broke, Beckham's camp was quick to rubbish claims, slamming the quotes as 'lies' and 'completely untrue'.
'Sadly we live in a world where a magazine can print lies and believe they can get away with it,' a spokesman said at the time, adding the allegations are 'completely untrue and totally ridiculous, as the magazine was clearly told before publication.'
Now it's said David has issued a team of international lawyers with a blank cheque, and instructed them to do anything have to, to clear his name.
And reports suggest the star is seeking an agreement from the US title that it will never again publish the story - either in print, or online.
It's also thought he will demand a front-cover apology for the scandalous story, which is said to have left Victoria 'furious' and 'upset'.
'David is prepared to scour the Earth for this woman, who seems to think she could make up a complete fantasy that is extremely hurtful to him and and his family,' a friend of the star told the Sun.
'She has treated his wife and children with such disregard he is not prepared to let this one go.
'He wants everyone held accountable. The magazine, the publishers and the hooker.'
Do you think David's right to pursue a front cover apology? Let us know your thoughts in the comments box below.
DAVID AND VICTORIA'S BEST MOMENTS
SEE VICTORIA'S LATEST DRESS COLLECTION HERE!
Celebrity news, beauty, fashion advice, and fascinating features, delivered straight to your inbox!