Marie Claire is supported by its audience. When you purchase through links on our site, we may earn commission on some of the items you choose to buy.
Flaboyant Pinapple Studios dancer Louie Spence challenged Becks to a dance off during a dinner party at their Hertfordshire mansion
Poor old Posh and Becks got more than they bargained for when they invited Pineapple Dance Studios star Louis Spence to a recent dinner party, after he challenged David to an after-dinner dance off.
DAVID AND VICTORIA: RELATIONSHIP IN PICS HERE
The dancing diva joined David and Victoria, as well as other pals including Emma Bunton for a get-together at the Beckhams' Hertfordshire mansion.
Victoria and Emma are said to love catching up with the outlandish star, who keeps them in fits of giggles all evening.
'Louie and Victoria go way back to her Spice Girl days and she loves catching up with him when they are in town,' a friend told the Mirror.
'She thinks he is hysterical and he was on brilliant form on Sunday. After they tucked into a chocolate dessert, he started to re-enact some of the old Spice Girls routines.'
But David was left a little red faced after Louie tried to entice him onto the dancefloor during after-dinner drinks.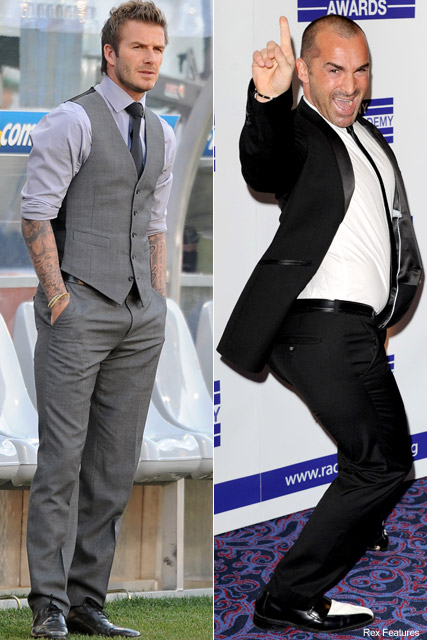 'He tried to get David involved,' the pal added. 'Becks was giggling nervously and going bright red as Louie was trying to get him to pirouette around the dining room.'
'The girls thought it was hilarious and were egging him on. Louie can't sit still for long, it's as if he has ants in his pants and just has to perform.'
Now that's one dance routine we would love to have seen!
SEE DAVID AND VICTORIA'S RELATIONSHIP HISTORY HERE!