Jennifer Lopez admits firing manager who told her to lose weight
J-Lo has revealed she fired a manager who told her to lose weight to fit in with industry standards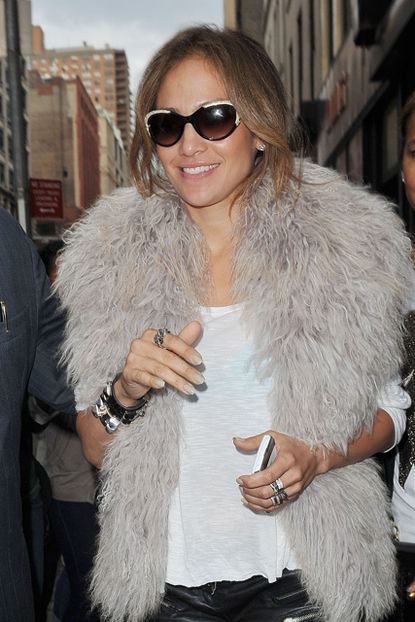 (Image credit: Rex)
J-Lo has revealed she fired a manager who told her to lose weight to fit in with industry standards
Jennifer Lopez has admitted to firing a manager who told her to lose weight to fit in with Hollywood standards.
SEE JENNIFER LOPEZ'S STYLE HIGHS AND LOWS
Known for her curves and volumptuous figure, Jennifer Lopez, admitted she is proud of her body and revealed she once sacked the worker, who told her she should lose some pounds.
Speaking up, after being named Woman of The Year by US Glamour, Lopez said 'I was just so infuriated that somebody said you couldn't have a little extra meat on you - because I was by no means fat!'
The 42-year-old singer and actress said, 'I was like: "No, this is who I am and this is the type of woman that I grew up with and it was beautiful and there's no reason to be anybody but myself".'
The American Idol judge said she no longer feels the need to diet and feels her natural curves set her apart from other skinny actresses.
Although she may be confident about her shape, J-Lo admitted she is a little worried about growing older has not decided whether or not she will have plastic surgery in the future.
The mother-of-two said, 'I'm not going to make a judgement on it because I don't have to yet.
'I'd like to think I'll feel great about myself and age gracefully, but then I think: "Well, what if I do want a little bit of something?"
Ms Lopez, who is currently going through her third divorce, with singer Marc Anthony, is becoming a relationship expert and advises those dealing with love trouble to do a little 'self-examination' and build confidence.
She told US Glamour, 'You've got to love yourself first. You've got to be OK on your own before you can be OK with somebody else. You've got to value yourself and know that you're worth everything.'
The UK number one 'On The Floor' singer, continued, 'Until you value yourself enough and love yourself enough to know that, you can't really have a healthy relationship.'
Celebrity news, beauty, fashion advice, and fascinating features, delivered straight to your inbox!