Marie Claire is supported by its audience. When you purchase through links on our site, we may earn commission on some of the items you choose to buy.
The recovering star's set to take on the bands on this year's show
Cheryl Cole is tipped to take on the groups during this year's X Factor, when she returns to work to film the judges houses section of the show.
SEE ALL THE LATEST X FACTOR PICS HERE!
Reports suggest Simon Cowell has formed two new groups from single contestants, in order to give Cheryl – who's acts have won for the last two years – the best chance when she returns to the show.
The groups are notoriously one of the hardest categories to manage, and it seems bosses want to see if the songstress can work her magic on the tough category. 
'It's a difficult category to get right, but not impossible as JLS showed two years ago,' one insider told the Sun.
But nothing is set in stone, and Cheryl could still be given an easier category if she's not fully recovered.
'Nothing's finalised about who gets which category but if Cheryl's up to dealing with the groups they want to give her the best people to choose from,' the source added.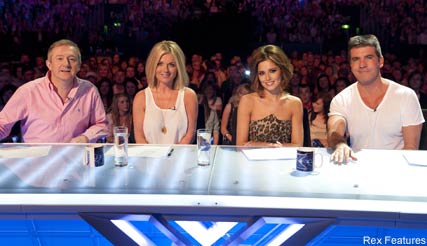 And in a new move, the judges will get eight acts – instead of six – to choose from this year.
Do you think Cheryl could work her magic on the groups this year? Or should she stick to single contestants? Let us know your thoughts in the comments box below.
SEE ALL THE LATEST X FACTOR PICS HERE!