Cheryl Cole NOT returning to UK X Factor
Officials have confirmed Gary Barlow, Kelly Rowland, Tulisa Contostavlos and Louis Walsh will take up places on the panel instead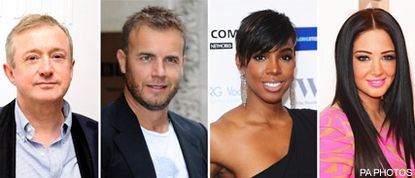 Officials have confirmed Gary Barlow, Kelly Rowland, Tulisa Contostavlos and Louis Walsh will take up places on the panel instead
Less than one week after being sensationally axed from the American X Factor show, officials have confirmed Cheryl Cole will not be returning to Simon Cowell's UK show, either.
Instead, ITV has confirmed Gary Barlow, Kelly Rowland, Tulisa Contostavlos and Louis Walsh will take up places on the panel instead.
SEE CHERYL'S AMERICAN X FACTOR DEBUT HERE!
After Cheryl's early exit from the much-hyped US music show, the rumour mill was abuzz with whispers Ms C would return to the UK version of the show, to take over from Simon Cowell as head judge on the panel.
And last week, an ITV insider fuelled speculation she was close to signing a luctative contract to return, revealing: 'We would be glad to have her back. She is Cheryl Cole'.
But according to reports, the deal went spectacularly wrong over the weekend.
Some are suggesting Cheryl's demands – including a £2.5 million package, thought up by new manager Will.I.Am – were all too much for TV bosses, who, at the last minute decided to leave her out of the line-up of this year's show.
'Will.i.am doesn't want her to have anything to do with Cowell anymore,' one insider told the Mail. 'Cowell thought she would come running back and take the UK job – but why would she when she's been hung out to dry in the U.S.'
Others insist Mrs C has been 'uncontactable' with show representatives trying and failing to get in touch with the Girls Aloud star.
And after negotiations seemingly failed, ITV yesterday confirmed the 2011 X Factor line-up, as Take That star Gary Barlow, Destiny's Child singer Kelly Rowland, N-DUBZ beauty Tulisa Contostavlos and music exec Louis Walsh.
Speaking only about the new additions to the panel, Simon Cowell, who returned to Britain's Got Talent over the weekend said the judges will bring a 'new attitude' to the music show.
'These four are totally up for it, each of them bring a different attitude,' he said in a statement.
'They have had a ton of hits between them and they are all committed to finding a star. I have a feeling Louis and Tulisa will have slightly different points of view as to what the next star should look and sound like!'
Meanwhile, it's thought Ms C has severed all ties with her former pal.
'Simon feels guilty as hell about what has happened to Cheryl. He has admitted it was a cock-up but she won't hear him out.
'He is really worried that she won't speak to him ever again.'
What are your thoughts on this year's X Factor line-up? What do you think Cheryl Cole's next move will be? Let us know in the comments box below.
SEE CHERYL'S AMERICAN X FACTOR DEBUT HERE!
Celebrity news, beauty, fashion advice, and fascinating features, delivered straight to your inbox!