Bobbi Kristina speaks publicly for the first time since Whitney Houston's death
The 19-year-old was interviewed by Oprah Winfrey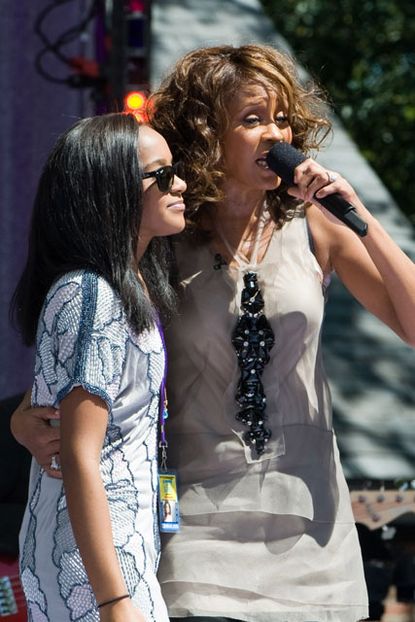 (Image credit: Rex Features)
The 19-year-old was interviewed by Oprah Winfrey
Whitney Houston's daughter Bobbi Kristina Brown has spoken publicly for the first time since the death of her mother.
The 19-year-old gave an emotional interview to Oprah Winfrey, which was aired this weekend.
Bobbi Kristina described her late mother as her 'everything.' She said: 'She wasn't only a mother she was a best friend, a sister, a comforter – she was this spirit that she has no matter where she was.'
WHITNEY HOUSTON: A LIFE IN PICTURES
'That was still my mother, my confident and she was my everything and I was her everything.'
The teenager, who revealed that she plans to become a singer and actor to carry on her mother's legacy, told Oprah that she can still feel the star's presence.
'She's always with me,' she said. 'Her spirit is strong, it's a strong spirit. I feel her pass through me all the time.
'Sometimes it's so surreal. I still walk into the house like, "Mom?" But I've accepted it. It comes in waves. One moment I can be happy and laughing, but then it comes over me. It's my mom.'
During the interview, Bobbi Kristina also described the final days and moments she spent with Houston before she passed away.
She said: 'The very last day, it was so early in the morning I went to go and get her I was like "Will you come and lay down with me."
Bobbi Kristina added: 'She was rubbing my head and I slept in her arms all day and all night long.'
Oprah also interviewed Houston's sister-in-law and manager, Patricia, who broke down in tears as she described the moment paramedics asked her to leave Houston's hotel room and that she realised the singer had passed away.
'I couldn't leave her and I said don't touch me please and I saw them cover her up and I knew that that was it. I knew that was it. Just looking at her and watching that I still could not believe it I could not believe it.'
WHITNEY HOUSTON FOUND DEAD AT 48
Celebrity news, beauty, fashion advice, and fascinating features, delivered straight to your inbox!