Baby joy for Tobey Maguire
Spider-Man star Tobey Maguire welcomes a baby boy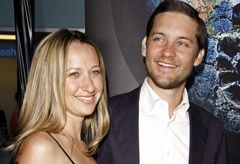 (Image credit: PA Photos)
Spider-Man star Tobey Maguire welcomes a baby boy
Actor Tobey Maguire is the proud father of a new baby boy after his wife Jennifer gave birth on Friday.
Early reports say that mother and baby are healthy and happy, even if the new tot has yet to be given a name.
It is the second child for Tobey, 33 and Jennifer, 31 who already have a two-and-a-half-year-old daughter, Ruby Sweetheart.
The Spider-Man star met his jewellery designer wife in 2003 while filming Seabiscuit. Jennifer is the daughter of Ron Meyer, president and chief operating officer of Universal Studios. She made a name for herself, however, creating jewellery pieces for celebrity clients, one which was famously used in Jennifer Aniston's movie, The Break-Up. The talented duo married in Hawaii in 2007 after dating for three years.
News of the pregnancy broke last year with a source saying: 'They couldn't wait to expand their family'. Even toddler Ruby was thrilled about becoming a big sister with her father saying: 'Ruby's not really jealous, this will be like having another little playmate.'
Maguire will be seen next in the third instalment of Spider-Man, slated for release in 2011.
ARE YOU A TWITTERER? FOLLOW US HERE!
BECOME A MAIRE CLAIRE FACEBOOK FAN HERE
Celebrity news, beauty, fashion advice, and fascinating features, delivered straight to your inbox!
Natalia is a health journalist with 14 years experience in the publishing industry. She has worked for a number of well known magazines and websites including Marie Claire, Woman&Home, Top Sante, Boots and The Telegraph. She likes to think she practices what she preaches when it comes to health and fitness. Her athletic prowess began early. A keen fencer for 13 years, she wielded an epée for Olympic Team GB during her teenage years. She likes to think she made sword-fighting cool before Game of Thrones came along! While working on her sporting performance with the team, she also participated in a lot of nutrition and psychology training, When it comes to time off, you'll most likely find her up a mountain somewhere. It seems holidays have become a time for climbing several thousand feet, rather than chilling out. She's now hiked eight of the major mountain ranges across four continents – including the Appalachians, the Smokies, the Sierra Nevadas (she spent her honeymoon hiking to the top of Half Dome), as well as hitting the summits of Snowdon, Pen-Y-Fan (Brecon Beacons), Table Mountain in South Africa, the Blue Mountains in Australia and the Atlas Mountains in Morocco. She's also passionate about all things health, particularly vaccinations, and will happily jump on her soap box at any given opportunity to talk about their benefits to anyone who will listen!