PICS! Robert Pattinson and Kristen Stewart cosy up at Comic Con
The Twi-couple looked closer than ever on the red carpet as they talked Breaking Dawn and Kristen's cooking skills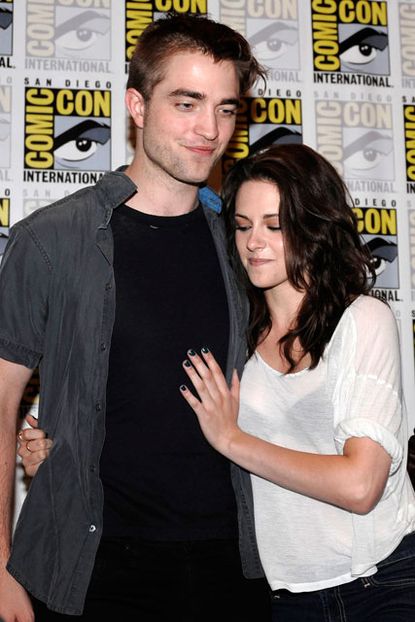 (Image credit: PA Photos)
The Twi-couple looked closer than ever on the red carpet as they talked Breaking Dawn and Kristen's cooking skills
Scream! They may never have admitted to being a couple, but Twilight couple Robert Pattinson and Kristen Stewart looked closer than ever as they cosied up on the red carpet at Comic-Con yesterday.
The pair sparked a Twilight fan frenzy at they arrived – alongside Taylor Lautner, Ashley Greene and the rest of the cast – to talk about Breaking Dawn at the massive movie event.
BREAKING DAWN: LATEST ON SET PICS!
Spilling the beans on her most nerve-wracking moments on set, Kristen revealed she was 'terrified' of filming Bella and Edward's wedding.
'I was as nervous and terrified as I expected to be,' the starlet told reporters of the wedding she's been 'ramping up to' since filming began.
'The wedding was [filmed] Secret Service style insane,' she joked.'The crew was completely inconvenienced. There was no cell phone or email. [But] I said thank you so much [to them] because if this [wedding] dress gets on the Internet, I'll die!'
Interestingly, R-Patz sailed through the wedding scenes, but let slip he was 'embarrassed' about taking his shirt off to film the steamy honeymoon shots.
'Embarrassingly, the thing I was most nervous about was to take my shirt off,' the sheepish 25-year-old - who was sporting a rather interesting new 'do for the event - explained.
'So much of the books are about Edward's body. . .I think in the book it's mentioned every three pages.'
The usually shy star also jokingly spoke aboutKristen's cooking skills, and how she she puts most of the meals on the table at home.
Revealing she 'only watches the cooking channel,' he added: 'she has a TV in the makeup trailer- it's her only diva-ish behaviour. Having the cooking channel on all the time in every room.'
But he embarrassed actress immediately hit back: 'You all reap the benefits!'
Lucky R-Patz.
WATCH the Breaking Dawn trailer here…
BREAKING DAWN: LATEST ON SET PICS!
ROBERT AND KRISTEN'S RELATIONSHIP HISTORY
Celebrity news, beauty, fashion advice, and fascinating features, delivered straight to your inbox!