Angelina Jolie talks tattoos
Ange has opened up on her inkings, revealing all on the meanings behind her many tattoos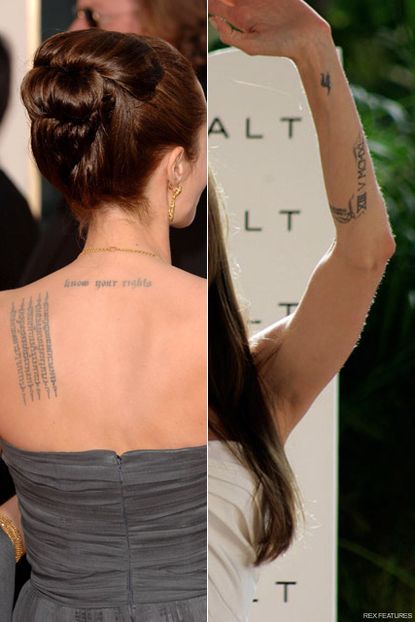 Ange has opened up on her inkings, revealing all on the meanings behind her many tattoos
Angelina Jolie has opened up on her tattoos in a new interview, revealing the meaning behind her many inkings in the chat with Australian title, Post-Modern Ink.
SEE MORE CELEBRITY TATTOO PICS HERE!
The star is thought to have a whopping 15 inscriptions, the most recent a Cambodian script on her shoulder, and mysterious squiggle on her inside arm.
And now Ange has told all on her love of body art, revealing she likes to mark the things that matter on her skin.
'I love them. They're body art,' she said. 'I don't think it's abnormal that someone who spends their life in other skins wants to claim their own by marking things on it that matter to them,'
'My most recent is five vertical rows of ancient Cambodian script. It's on my back and looks very sacred.'
Ms Jolie also opened up on how she came to have the striking blue dragon tattoo on her hip, revealing it was the result of a 'crazy' night in Amsterdam.
'Getting my dragon was perhaps the biggest surprise. I was in Amsterdam and got a little crazy, dropping my pants at a tattoo parlour and woke up the next morning and saw this really funny dragon,' she said.
'I've always wanted a dragon but this one had a funny blue tongue. To me a dragon is very much a woman, strong and elegant.'
What are you thoughts on Angelina's many inkings? Let us know in the comments box below.
SEE MORE CELEBRITY TATTOO PICS HERE!
Celebrity news, beauty, fashion advice, and fascinating features, delivered straight to your inbox!