Are Angelina Jolie's kids happy with her new role as villain Maleficent?
The mum-of-six will play evil fairy Maleficent in new Sleeping Beauty film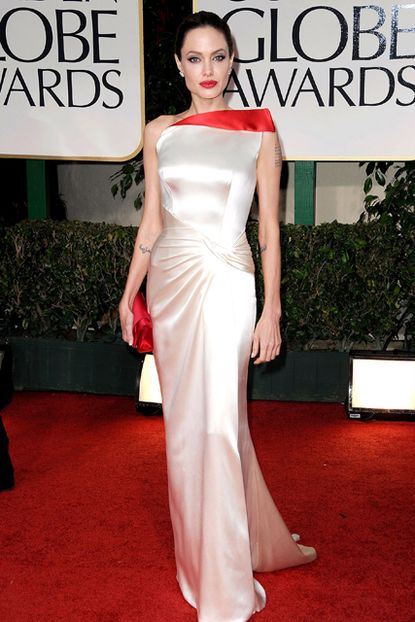 (Image credit: REX)
The mum-of-six will play evil fairy Maleficent in new Sleeping Beauty film
Angelina Jolie is taking on a more sinister role of Maleficent in the upcoming remake of Sleeping Beauty, much to her children's delight.
The actress will play the wicked Maleficent, but is determined that the re-telling will show the sorceress as a woman who is 'actually a good person' but is 'far from perfect.'
'The next thing I'm doing is Maleficent for Disney. I start it in June, and it's a really great script,' Angelina Jolie told Entertainment Weekly. 'I'm having a lot of fun. I've already got my horns fitted. My kids are very happy.'
Asked if Maleficent will be a protagonist instead of a villain, Jolie explained: 'It's not anti-princess, but it's the first time they're looking at this epic woman.'
'I hope in the end you see a woman who is capable of being many things, and just because she protects herself and is aggressive, it doesn't mean she can't have other qualities. You have to figure out the puzzle of what she is.'
The mum to Maddox, 10, Pax, eight, Zahara, seven, Shiloh, five, and twins Vivienne and Knox, three, continued: 'It sounds really crazy to say that there will be something that's good for young girls in this, because it sounds like you're saying they should be a villain.'
Adding: '[Maleficent] is actually a good person. But she's not perfect. She's far from perfect.'
In the original 1959 animated film, Maleficent appears as a slender, beautiful, pale green-skinned woman who has yellow eyes and a horned headdress which is symbolic of her dark magic, a look Angelina is still tweaking.
'We're still figuring out the look. We're experimenting with different things. The horns are the horns - you can't deny them, you have to have horns,' she said.
ANGELINA JOLIE STYLE HIGHS AND LOWS
Earlier this year Disney announced that the production designer for Avatar and Alice in Wonderland, Robert Stromberg, will direct the film while Elle Fanning is understood to have been cast opposite Jolie as protagonist Princess Aurora.
Celebrity news, beauty, fashion advice, and fascinating features, delivered straight to your inbox!