Angelina Jolie receives 'scary' threats over In the Land of Blood and Honey
Speaking at the Bosnian premiere of the film, the actress revealed that she and the cast have been threatened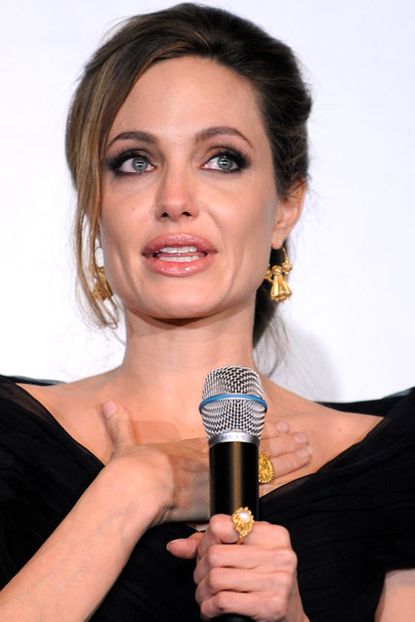 (Image credit: Rex Features)
Speaking at the Bosnian premiere of the film, the actress revealed that she and the cast have been threatened
Angelina Jolie has revealed that she and members of her In the Land of Blood and Honey cast have received threats after the film premiered in Sarajevo, Bosnia.
The actress, joined by Brad Pitt, attended the premiere of her directorial debut in the Bosnian capital on Tuesday night, and admitted that her efforts have not been appreciated by some.
In an interview with the Guardian, Jolie said: 'There were things sent to me, there were things posted online. The cast have never complained to me about these threats but I've heard through other people it was happening. One of them did have their windows smashed in on their cars and someone else had an issue when their phone was hacked and emails were sent out saying they were from them and saying they had been hurt.'
The 36-year-old added: 'It was a scary thought that someone was thinking along those lines.'
ANGELINA JOLIE HONOURED FOR IN THE LAND OF BLOOD AND HONEY
Ange was due to premiere the film, which is set during the Bosnian war 20 years ago, in the Serbian capital, Belgrade, but has since decided against it, although she denies this is because of the threats made against her.
'The physical threats are not what most bothered me because I have been to so many different countries where there are different kinds of threats, being in Afghanistan and other places as an outspoken American woman,' she said.
'It was more that with a film like this, you don't want it to be used as a tool, especially in an election year, where people are deciding to label it without having seen it, and try to incite aggression and violence.'
ANGELINA JOLIE STYLE HIGHS & LOWS
Celebrity news, beauty, fashion advice, and fascinating features, delivered straight to your inbox!