Amy Winehouse to sue her mother-in-law
Amy's mother-in-law sued for selling love letter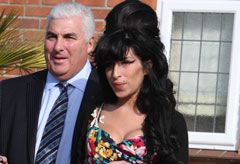 Amy's mother-in-law sued for selling love letter
Amy Winehouse is suing her mother-in-law for selling one of her love letters written to soon-to-be-ex-husband, Blake Fielder-Civil.
Ignoring the number one rule for domestic bliss – don't rile the mother-in-law – Amy is bringing a lawsuit against Blake's mother, Georgette, after she sold the love note, which was intended for Blake when he was in prison for assault and perverting the course of justice.
No court hearing date has been pencilled in yet, but according to a source who spoke to The Sun: 'Amy was furious the private letter was used to make money.'
The 25-year-old Back to Black singer is seemingly severing all ties with her ex's family by suing Georgette for copyright infringement, which could see her rewarded £50,000 in compensation.
Meanwhile, reports a week ago suggested Amy and Blake are set to rekindle their romance, despite being days away from finalising their divorce.
According to reports in the News of the World, Amy 'begged' her soon-to-be-ex hubby to halt divorce proceedings.
Speaking to the tabloid, Blake confirmed: 'I love her as much as ever. I know she still loves me, even though we're getting divorced.'
He added: 'Maybe this time we can do everything properly and not mess it up.'
Fielder-Civil made the decision to file for divorce on the grounds of Amy's infidelity. In court last month a judge ordered a decree nisi, but the divorce will not be granted until 28 August.
FOR MORE CELEB NEWS CLICK HERE
Celebrity news, beauty, fashion advice, and fascinating features, delivered straight to your inbox!