Amy Winehouse cancels comeback after disastrous Belgrade performance
The singer was jeered by furious fans as she slurred her way through a concert in Belgrade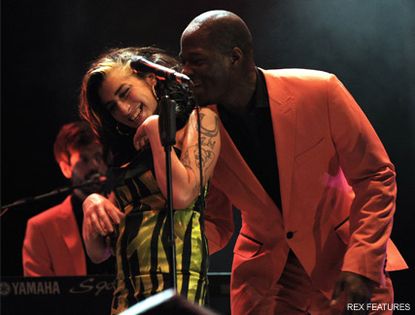 (Image credit: Rex Features)
The singer was jeered by furious fans as she slurred her way through a concert in Belgrade
Oh dear, Amy Winehouse. After being released from rehab and given the go-ahead by doctors to embark on her European tour, we really thought things were looking up for the troubled Brit singer.
Not so, apparently. According to reports, the singer was booed by thousands of angry fans at a gig in Belgrade over the weekend, after slurring her way through a gig tipped to be her 'comeback'.
And yesterday things went from bad to worse for the singer, after her management cancelled a string of upcoming gigs, and sent her home.
Beginning her disastrous weekend performance by shouting: 'Hello Athens,' footage filmed by fans shows the seemingly inebriated singer stumbling around stage, and mumbling her way through several of her most famous songs.
At one point the songstress threw her microphone to the floor and stood with her back the audience while at another she had to be held up by members of her band.
It soon became obvious furious fans – who had paid up to £40 a ticket - had no sympathy for the sorry singer, booing and jeering through some of the songs.
'She started a show and turned her back to public (btw, for most of us it was not that easy to give the money for ticket because of the economic situation in Serbia) and that was just the beginning of her disrespect and bizarre behavior,' one fumed on YouTube.
'She did not sang one song from beginning to the end, Some of them she didn't even tried to sing. Not a fan anymore'
Yesterday, Amy's management confirmed they had cancelled her upcoming gigs and asked the singer to return home.
'Despite feeling sure that she wanted to fulfill these commitments, she has agreed with management that she cannot perform to the best of her ability and will return home,' a spokesman said in a statement.
'She would like to apologize to fans expecting to see her at the shows but feels that this is the right thing to do.'
Is it time Amy Winehouse finally cleared up her act? Let us know in the box below.
Celebrity news, beauty, fashion advice, and fascinating features, delivered straight to your inbox!