Critics praise Cheryl Cole's American X Factor performance
Has Simon Cowell made the biggest mistake of his career so far by sacking Mrs C from the panel?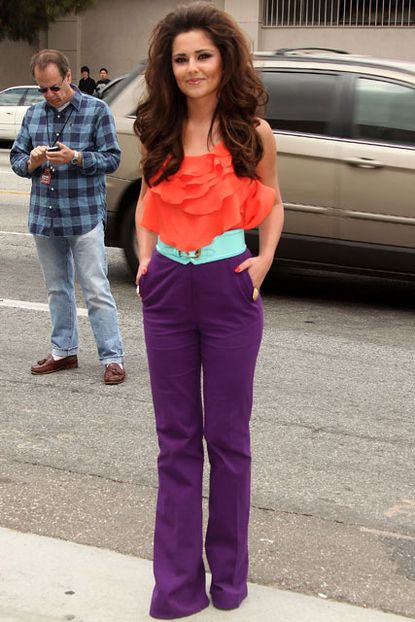 (Image credit: Rex)
Has Simon Cowell made the biggest mistake of his career so far by sacking Mrs C from the panel?
The first reviews are in for the US X Factor and it seems the Americans much prefer Cheryl Cole to new judge Nicole Scherzinger, branding the Pussycat Doll nothing more than a 'seat warmer'.
SEE CHERYL COLE'S HIGHS AND LOWS IN PICTURES
Although Girls Aloud singer Cheryl was axed from the show back in May - when SiCo felt she was 'uncomfortable' on the panel - she still appears in the opening episode which will air on UK TV tonight on ITV2.
One review read: 'In the premiere Cheryl just kind of disappears mid show, without much explanation, and suddenly Nicole Scherzinger of Pussycat Dolls is in her chair.'
It seems Simon Cowell's doubts that the Americans wouldn't understand Cheryl couldn't have been more wrong as critics praised the Newcastle-born singer for her 'fabulous Geordie accent!'
The US TV Guide magazine backed Cheryl's corner, too, saying, 'she was perfectly understandable. Well-spoken and charming, too. Her replacement Nicole Scherzinger's robotic comments are grating by comparison.'
In fact, the general consensus from US critics was that the replacement of Nicole Scherzinger was a 'downgrade' from Cheryl.
The Chicago Tribune read, 'Scherzinger doesn't come off as an obvious improvement', while the LA Times wrote: 'on a first impression, she [Cheryl] is much more interesting than Scherzinger.'
It seems Simon Cowell's plans for an American take-over may have backfired, with some sources branding it 'a bad call which could affect the success of the show long-term.'
And he was dealt another blow earlier this week, when Cheryl reportedly turned down his offer to become a judge on UK show Britain's Got Talent. Oh dear...
Will you be watching Cheryl's performance in tonight's X Factor USA? We want to hear YOUR thoughts on if she is a worthy judge. Let us know in the comments box below…
Celebrity news, beauty, fashion advice, and fascinating features, delivered straight to your inbox!