Is being slimmer than your man the key to happy marriage?
According to a new study weighing less than your husband will lead to a lasting and happy marriage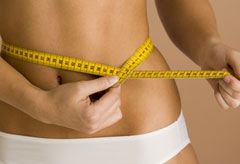 According to a new study weighing less than your husband will lead to a lasting and happy marriage
Simply being a stone or two lighter than your husband could lead to a happy marriage, according to a new study.
The 'key' to a lasting union was revealed after the University of Tennessee undertook a four-year study. Over the period, 169 couples, under the age of 35, were asked to complete a questionnaire on their relationship every six months.
The results suggest that those in relationships where the wife had a lower Body Mass Index than her husband were happier in the short term, as well as the long term, than those who weighed the same or more.
From their findings the researchers concluded that men were initially in their relationship as they found their thinner partner attractive. As time went on, women felt secure and wanted as their husbands still found them desirable after several years of marriage.
'The great message from our study is that women of any size can be happy in their relationship with the right partner,' said lead author Andrea Meltzer. 'It's relative weight that matters, not absolute weight. It's not that they have to be small.'
Experts also revealed that men and women were happier in relationships where men were more powerful, whether it be through income, intelligence, height or weight.
'Those signs of bigness lead to a subconscious feeling within the woman of more security and, in turn, more marital satisfaction,' said couples therapist Susan Heitler.
However, relationship expert Jean Hannah Edelstein was reticent to place too much importance on the theory: 'I would be sceptical that most men would really reject their partners on the basis of being overweight if there were no other issues.'
Do you think being slimmer is the key to a happy marriage? Or are there more important factors? Let us know in the comments box below.
Celebrity news, beauty, fashion advice, and fascinating features, delivered straight to your inbox!
Natalia is a health journalist with 14 years experience in the publishing industry. She has worked for a number of well known magazines and websites including Marie Claire, Woman&Home, Top Sante, Boots and The Telegraph. She likes to think she practices what she preaches when it comes to health and fitness. Her athletic prowess began early. A keen fencer for 13 years, she wielded an epée for Olympic Team GB during her teenage years. She likes to think she made sword-fighting cool before Game of Thrones came along! While working on her sporting performance with the team, she also participated in a lot of nutrition and psychology training, When it comes to time off, you'll most likely find her up a mountain somewhere. It seems holidays have become a time for climbing several thousand feet, rather than chilling out. She's now hiked eight of the major mountain ranges across four continents – including the Appalachians, the Smokies, the Sierra Nevadas (she spent her honeymoon hiking to the top of Half Dome), as well as hitting the summits of Snowdon, Pen-Y-Fan (Brecon Beacons), Table Mountain in South Africa, the Blue Mountains in Australia and the Atlas Mountains in Morocco. She's also passionate about all things health, particularly vaccinations, and will happily jump on her soap box at any given opportunity to talk about their benefits to anyone who will listen!