Exclusive: Pat McGrath Tells Us About THOSE Alexander McQueen AW14 Mega-Lashes
Make-up artist Pat McGrath tells us how she created the feather eyelashes debuted on the Alexander McQueen AW14 catwalk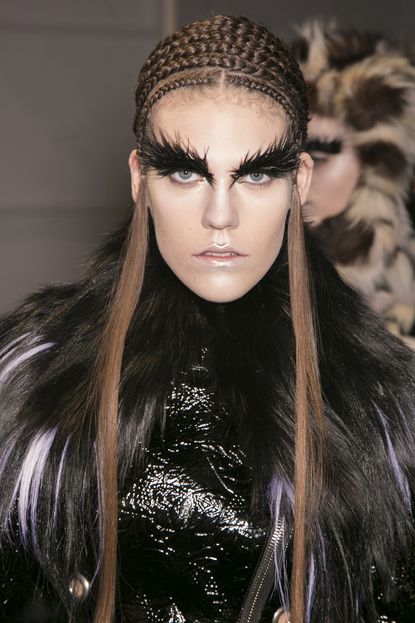 (Image credit: Imaxtree)
Make-up artist Pat McGrath tells us how she created the feather eyelashes debuted on the Alexander McQueen AW14 catwalk
It's fair to say that Pat McGrath knows a thing or two about extreme beauty. Whether she's dreaming of solid gold eyebrows and jeweled lips for Dior, or dousing John Galliano himself in multicolour powder-paints (that was back in 2002, but we still remember how epic it was) Pat's creative catwalk statements have made her one of the most influential and sought-after make-up artists in the world.
The feathery super-lashes that she magicked up for Alexander McQueen's enchanting AW14 show will surely go down as the most distinct beauty look of the season - perhaps even one of the most memorable catwalk make-up moments ever.
Speaking exclusively to Marie Claire Runway, Pat explained the process behind the stunning look…
'There is always a theatrical element to a McQueen show, but this season it was taken to a whole new level in terms of drama and thematic elements,' she said of her starting point. 'Guido [Palau, hairstylist] and I were given the inspirations of the concepts about two weeks before the show. It is a collaborative effort - it takes hours of preparation per day, coming up with new exciting ideas and several test days leading up to the show.'
(Image below: Pat (centre) rallies the team backstage at Alexander McQueen)
'I painstakingly created black feather lashes, which consisted of 65 pieces per eye. Preparing the lashes proved to be the most difficult, because we pre-cut feathers and then, by using tweezers, applied each feather to achieve the perfect application. Ultimately there were 130 feathered pieces per face, which took about two hours to do.'
(Image below: Building the layers of feather lashes)
'We were hand-cutting pieces of black feathers for hours to prepare. I was adding last-minute touches and enhancements right up until each girl stepped on to the runway.'
(Image below: The finished effect)
'There is definitely a buzz of emotions and an almost-surreal feeling. You know almost immediately from the energy in the audience and how they feel, and that sharp intake of breath you hear makes the hard work worth it.'
Read more exclusive interviews with beauty insiders in the AW14 issue of Marie Claire Runway, on sale now.
Celebrity news, beauty, fashion advice, and fascinating features, delivered straight to your inbox!