Is the internet damaging your personality?
With celebrities increasingly coming to virtual blows on social networking sites, Marie Claire asks: Is the internet bringing out our dark side?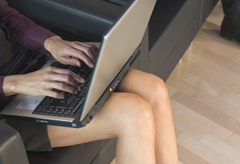 (Image credit: Rex Features)
With celebrities increasingly coming to virtual blows on social networking sites, Marie Claire asks: Is the internet bringing out our dark side?
Have you ever fired off an angry facebook update or posted a cutting tweet without thinking? Well, it seems you're not alone, as celebrities and civilians alike are using social networking sites as their virtual brawling ground.
Recently, columnist Julie Burchill accused Lily Allen of being an 'over-privileged cry-baby', to which the pop star then retaliated on Twitter that Julie was 'an ignorant and bitter old troll'.
Meanwhile Piers Morgan and Rio Ferdinand were reportedly trading insults for several hours on the same social networking site.
So what is happening to our society? Are we simply becoming more uncivil by the day, or is the internet bringing out our darker side?
Elia Aboujaoude, a doctor at Stanford University's school of medicine in the U.S believes that many of us are in fact developing 'e-personalities'.
'Our e-personalities are an uninhibited version of who we are - a collection of personality traits that make us more child-like, impulsive, darker and narcissistic,' he says.
Add to this the luxury of online anonymity, making us more confident in voicing opinions. 'We are anonymous, so it's so easy to think that what we say has no consequences,' he continues.
The speed of the internet and having everything at the click of a finger means we usually act before engaging our brains. It encourages impulsivity, committing acts that we usually live to regret.
Online shopping, gambling and infidelity are the most common examples of impulsive online activity. 'These impulses have always been there, they're just much easier to access now,' adds Aboujaoude.
If you're worried about becoming embroiled in a public slanging match on a social networking site, the advice is simple: think before you click.
Celebrity news, beauty, fashion advice, and fascinating features, delivered straight to your inbox!
Natalia is a health journalist with 14 years experience in the publishing industry. She has worked for a number of well known magazines and websites including Marie Claire, Woman&Home, Top Sante, Boots and The Telegraph. She likes to think she practices what she preaches when it comes to health and fitness. Her athletic prowess began early. A keen fencer for 13 years, she wielded an epée for Olympic Team GB during her teenage years. She likes to think she made sword-fighting cool before Game of Thrones came along! While working on her sporting performance with the team, she also participated in a lot of nutrition and psychology training, When it comes to time off, you'll most likely find her up a mountain somewhere. It seems holidays have become a time for climbing several thousand feet, rather than chilling out. She's now hiked eight of the major mountain ranges across four continents – including the Appalachians, the Smokies, the Sierra Nevadas (she spent her honeymoon hiking to the top of Half Dome), as well as hitting the summits of Snowdon, Pen-Y-Fan (Brecon Beacons), Table Mountain in South Africa, the Blue Mountains in Australia and the Atlas Mountains in Morocco. She's also passionate about all things health, particularly vaccinations, and will happily jump on her soap box at any given opportunity to talk about their benefits to anyone who will listen!