Meet the technistas - why new media's a girls' game now
Who says online moguls have to be hoodie-wearing computer geeks? Meet the new breed of women who are blasting the stereotypes and making their mark on the web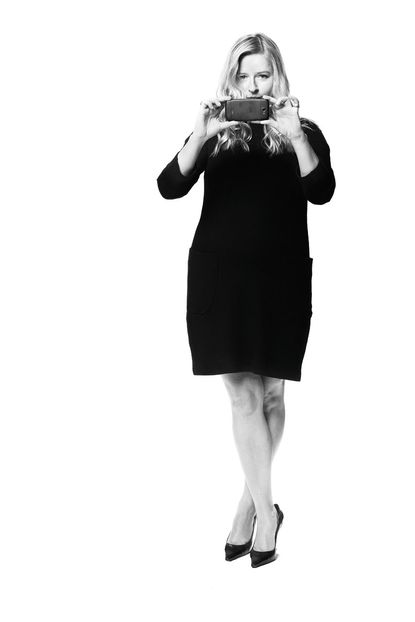 (Image credit: Chris Floyd)
Who says online moguls have to be hoodie-wearing computer geeks? Meet the new breed of women who are blasting the stereotypes and making their mark on the web
Close your eyes and picture a famous tech entrepreneur. You might see the late Steve Jobs in his uniform of jeans and black T-shirt, or the hoodie-wearing Facebook founder Mark Zuckerberg. Maybe you're thinking of Twitter's Jack Dorsey, or Larry Page and Sergey Brin, the men behind Google.
I'm willing to bet you aren't picturing a woman, and certainly not anyone as chic as Julia Fowler, who's sitting opposite me in the slick east London offices of her online business, Editd. Wearing a pleated skirt, cashmere top and edgy heels, the only stereotypically geeky thing about her is her glasses – and even they're fashionable.
What Fowler's offering, however, is some very clever geekery indeed: a web service – Editd – that analyses social media and helps the fashion industry predict trends. Yet Fowler herself is representative of an encouraging new trend: women – or technistas – launching tech businesses.
Around the world, more and more women are reaching the top of tech conglomerates, from Facebook's COO Sheryl Sandberg to Yahoo CEO Marissa Mayer. But women who have founded tech companies are much thinner on the ground. Net-A-Porter's Natalie Massenet and Lastminute.com's Martha Lane Fox are rare examples.
What's shocking is that, in the UK, the proportion of women going into tech jobs is actually shrinking. Although we make up 48 per cent of the workforce*, we account for just 18 per cent of the IT and telecoms sector. Something is clearly going badly wrong. Many people point to tech's masculine, nerdy image. Belinda Parmar, CEO of marketing agency Lady Geek, says, 'We asked schoolchildren to draw someone who works in technology or gaming, and every single one – girls and boys – drew a man. Girls love using gadgets but they're not thinking about becoming the creator of the next iPad.'
But all's not lost – as the women on these pages prove, some inspiring female role models are emerging.
THE BLOGGER
Liberty London Girl, aka Sasha Wilkins, 37, blogs about fashion and lifestyle, and has 250,000 page views a month.
'If you'd told me five years ago that I'd be a pro blogger, modelling in advertising campaigns and flying around the world speaking at conferences, I would have said you were delusional.
'I started blogging in 2006 – and nobody was ever meant to read it. I was a fashion editor and it seemed like a great way to write a no-holds-barred diary. After I moved to the US I used it to keep people at home updated on my life.
'Gradually, my readership grew – until one day I noticed that someone I didn't know had posted a comment. I remember thinking, "Wow, someone is reading this who is not my family." By 2009, my blog had gone viral. When I started getting invitations to major fashion shows in 2010, I decided to give up my anonymity.
'Today, my income comes mostly from commercial projects like being a brand ambassador. My readers have been reading me for a long time, so they trust my recommendations. I'm about to launch a travel app too.
'I've been to 22 countries this year and I still just blog about my life, so you're as likely to read a post about a couture show as you are about me cleaning my bins. I work very hard; nothing goes on the blog that I haven't personally experienced – which means I'm out and about and "on" a lot. It's tiring, but fun.
'The best part about my job is meeting people – not celebrities, but everyday people. I have friends from around the world. It sounds schmaltzy, but a lot of my readers have come along for the ride, so it's a real community, which I love.'
Follow her on Twitter @LibertyLndnGirl
My advice Be authentic. I only blog about things I believe in, so people have worked out I'm trustworthy.
THE ONLINE EDITOR
Helen Russell, 32, is Marie Claire's former digital and online editor, in charge of marieclaire.co.uk and all of Marie Claire's social media.
'I never used to be a techie person – I started out as a print journalist. I've learned on the job – and I'm still learning. 'Everything changes so quickly, so that things you were doing even two years ago aren't necessarily still relevant, especially when it comes to social media.
'The day starts earlier for the online team at Marie Claire. We get in at 8am, and if there's a film premiere our readers will be interested in, we'll be working late. We knew they'd love to know about V Festival, so online news editor Suzannah went along and we had lots of stories about the acts and street style ready first thing the next day. The morning is all about getting news up on the site.
'We have 155,000 subscribers to our daily newsletter, so we put together a news list, see what's trending and which celebrities are in town. The best days are the big traffic days – they're really hard work, but they pay off. On the morning after the Oscars, for instance, we started at 4am, and got a million page views in 24 hours.
'It's really satisfying to see the impact of your work straight away. In big months, we've had a million visitors to the site, and we get about 15 million page views, so we know that people like what we're doing, plus they tell us on Twitter and Facebook.
'Online, you have to make a decision quickly and run with it. But the advantage is that you can soon see what impact that decision has made, and whether it was right, so you can tweak it. You have to be analytical, methodical and conscious of what will deliver the most hits. The people who do it best definitely have an inner geek. I think more and more women are embracing technology – especially iPads and social media. In my world, it's mostly women.'
Follow her on Twitter @HelenRussell_MC
My advice Show willingness – get on Twitter, start a blog and do your homework by researching the sites you love.
THE fashion E-TAILERs
Roberta Benteler, 28, is co-founder of the fashion site Avenue32.com; Erin Mullaney, 35, is the fashion director.
Roberta says: 'There's no "typical" day for me. I could be meeting designers one day and improving the site with our web team the next. I love it – I only wish I'd moved into online fashion earlier.
'I came up with the idea behind Avenue 32 in 2009. I was working in finance but had always loved fashion, so I did work experience with a fashion designer friend. Working with her, I saw how dependent she was on buyers; she had a big collection but they'd only buy that one dress a celebrity had worn. I realised there was a gap in the market for an online shopfront that allowed designers to sell what they wanted.
'We launched Avenue 32 six months ago, and every designer has their own mini shop within the site. We don't buy any stock; instead, we take a commission on each sale. We also handle shipping and PR. Designers have been very receptive.
'I love the vibe that comes with a new business; when you have a bad day, everyone feels it, but when you have a great day, everyone's over the moon. Business is growing. Last week we made more in a day than we did in the first month. Recently, we sold an Azzaro dress for £5,500. Until then, we hadn't sold anything over £1,000, and it was ordered by someone in Hollywood – we thought it might be a movie star!
'But my favourite part of my job is the twice-yearly fashion shows. We travel to Paris, Milan and New York and I love seeing the new clothes. You really do feel like you're at the centre of the fashion universe.'
Erin says: 'Having been the buyer for Browns, I'd seen how important the web was becoming. For me, this was the natural next step. We've got big brands like 3.1 Phillip Lim and young designers like Palmer Harding. 'Working online means you can react quickly and see everything your customer is doing: how long they spend on your site and what they put in their basket, not just what they buy. People take more chances online because they know they can return it, so they might buy a red piece instead of black. You have to think differently about what stock you put online.'
Follow her on Twitter @Avenue32
The App Creator
Anna Powell-Smith, 32, is a web developer who builds apps (including What Size Am I?) in her spare time.
'I still remember how nervous I was when I launched my first app. It was a virtual notebook (which allows you to type notes into your phone). I worried that people would hate it, that I would put it on the app market and they'd post comments saying, "This doesn't work." But in the end, 400,000 people downloaded it and I made £1,200 – not bad for something I did in my spare time.
'I got into programming quite late. I was 22 and had an English degree, but I wanted a practical skill so I decided to study computer science. Today, I'm contracted to companies like Marks & Spencer, analysing how people use their websites. I've also written 15 apps.
'An app is something that solves a problem, and my best-selling one was What Size Am I?. The idea was born out of my own frustration. Every time I bought clothes online I'd have to get them in three sizes, and send two back, because I had no idea which one I'd be. My app allows you to enter your measurements and identify your correct size in 18 high-street shops. About 100,000 people visited in the first month. Clearly a lot of women have this problem!
'Coding can be addictive; I usually work from 10 till eight or nine at night. But although it's perceived as a solitary job, I'm constantly chatting online and seeking advice from other developers. It's a very friendlyand meritocratic community. Other developers judge you on your code, nothing else – it's called the hacker ethic.'
Follow her on Twitter @darkgreener
My advice The website codecademy.com is a great free site to visit if you want to learn to code.
THE SOCIAL MEDIA ANALYST
Julia Fowler, 30, co-founded the fashion intelligence company Editd with her husband, Geoff Watts. 'I came up with the idea for Editd after working as a fashion designer. One of my biggest frustrations back then, and the reason why clearance sales exist, was that the wrong stuff was getting made – the wrong colours or trends entirely.
'I started to wonder if there was a better way to predict what would sell. My husband was working as a data analyst, analysing whether stocks would perform well. So I said, "Could we do that for fashion?" There are so many sources of fashion information now – Facebook, style blogs. I envisaged a tool that could analyse social media and predict trends.
'In 2010 we entered a competition for internet start-ups and won £1m funding. Today, we help fashion businesses identify emerging trends. For example, a few seasons ago we watched shearling take off. Before it appeared on the Burberry catwalk, nobody was talking about shearling online; after the show interest skyrocketed. Our clients were able to monitor the trend and decide whether to buy into it.
We do "sentiment analysis" too – so we know whether the online chatter is positive. It's very technical. I've always loved fashion, but now I find myself having conversations about calculus algorithms!
'Today we have customers from South Africa to San Francisco, so I can be on my computer until 2am. It does take over your life – but we're aiming for world domination.'
Follow her on Twitter @EDITD
My advice Focus obsessively on getting your product right and don't be hesitant to tweak the direction if you don't have good market fit.
Celebrity news, beauty, fashion advice, and fascinating features, delivered straight to your inbox!
The leading destination for fashion, beauty, shopping and finger-on-the-pulse views on the latest issues. Marie Claire's travel content helps you delight in discovering new destinations around the globe, offering a unique – and sometimes unchartered – travel experience. From new hotel openings to the destinations tipped to take over our travel calendars, this iconic name has it covered.