Meet One Of The Most Controversial Women In The World, PETA's Founder Ingrid Newkirk
You might not recognise Ingrid Newkirk, but you'll definitely be familiar with her work.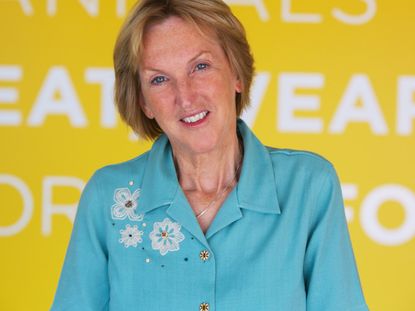 You might not recognise Ingrid Newkirk, but you'll definitely be familiar with her work.
Ingrid set up People for the Ethical Treatment of Animals (PETA) in 1980 and the organisation still lives and breathes its one mission statement: 'Animals are not ours to eat, wear, experiment on or use for entertainment.'
As the founder and president of PETA, Ingrid has been relentless in her work against animal cruelty and has no fear in being controversial - she once compared factory farming to the Holocaust, allowed herself to be force fed on the streets of London and plonked a dead raccoon on Anna Wintour's plate as she ate at the Four Seasons.
No matter what you think of her tactics, Ingrid is a fascinating, driven and determined woman. Here, we meet her to see what a day in the life of Ingrid Newkirk is really like:
Describe your typical working day.
My working day begins at about 5am in Washington, DC, when I start answering overnight e-mails from PETA affiliates and offices in other time zones. It can involve anything from arranging to move Sunder, a young elephant PETA India just rescued from his life chained in a chicken shed, to discussing the theme for a demonstration in Europe, such as the protest we just held against the Running of the Bulls in Pamplona.
If I happen to be in my office, I feed the pigeons, the one-footed crow and the squirrel on the fire escape; make the coffee, as I'm the first person in; greet the arriving cleaner; take a call from overseas, perhaps from a reporter and then start with a 9:15 am meeting about what's in the news that affects animals, such as Mr Cameron's blind support for killing more badgers – contrary to the will of the public, MPs and scientific evidence, which all call for an end to the continued slaughter – or Lady Gaga's latest stunt which involved putting heavy jewellery and a face mask on her dog. Then it's reviewing PETA's quarterly magazine, Animal Times, or looking over a new design for a celebrity campaign.
The afternoon involves more meetings, perhaps with the head of our investigations unit about confidential undercover work or the pending release of a case, perhaps involving cats used in brain and eye experiments that we are determined to stop or minks killed painfully on a fur farm.
How do you unwind?
On the way home I'll pick up some food from the Chinese restaurant nearby. I shower and get back on e-mail, attend a board meeting or take a conference call, or if I've seen really depressing footage from a case that day – for instance about leather made from dogs in China or about snakes skinned alive for a bag – I'll watch a comedy video, do a crossword puzzle and drink a cup of tea in bed. Then I'll do some last-minute e-mails and finally sleep.
What's the most rewarding thing about your job.
I love being able to see animals saved and suffering stopped. I enjoy hearing from kids who are going vegan and from adults who are doing some of the things I suggest in my books, including One Can Make a Difference and Making Kind Choices. I love to see the stats – the millions of people who are watching PETA's videos and requesting vegan starter kits from our website – and to see laws passed, such as the EU ban on selling cosmetics tested on animals. I love that the world is waking up to who animals are and what they need. I love that new studies are being published almost daily which show how fascinating and intelligent animals are – that fish can tell time, rats show sympathy, bats feed ailing friends and birds treat their own wounds with natural antibiotics. I love how many non-dairy milks and vegan "meat-alikes" there are and how stars such as Pam Anderson, Paul McCartney, Kate Winslet and Penélope Cruz help animals by working with PETA.
What do you find frustrating?
I dislike ignorance, arrogance and the fight to retain cruel habits, to keep turning a blind eye to the horrors I've personally witnessed in slaughterhouses and so on. I detest the companies that make profits from carving animals into bits or enslaving them for entertainment – as well as the politicians who are bought by them.
Who inspires you?
Sojourner Truth, the black US liberationist, whose boarding house was burned down because she dared to say that black people and women deserved rights. Archbishop Desmond Tutu for his wit in rejecting the oppression of anyone. Peter Singer for writing Animal Liberation and tithing his income. And every single person who lifts a finger in any way to help animals, children, the poor, the elderly.
What's the best advice you've ever been given?
My mother said, "It doesn't matter who suffers – it matters that they suffer. Always do what you can to help them".
How did you get to where you are today?
Several things happened when I was young: I came across a pig who had been abandoned and was dying on a farm, and thinking about what he was enduring made me realise that perhaps the pig in my refrigerator had suffered badly, too. I picked a lobster for my dinner in a fancy restaurant, and he waggled his antennae at me, making me realise that it was his only way of communicating and how no animal wants to be eaten. I found a squirrel who had died in a steel trap in the woods as well as a fox who was still alive, and I realised where my fur collar came from. Then I read Peter Singer's book Animal Liberation, and my philosophy gelled, and I realised, as Henry Beston the philosopher did, that all discrimination is wrong, whether based on skin colour, gender, species or anything else. We all feel pain and joy and want to live, so I decided to carve out a way to talk about that to others and show people that they had meaningful choices to make in everything they did and with everything they bought: to be cruel or to be kind.
Tell us your five-year goal.
Getting elephant mothers and babies out of all circuses, seeing the end of the annual Canadian seal slaughter, watching as vegan supermarkets open and getting more and more animal tests replaced by exciting new technology.
What's your plan B?
To die and have my body parts donated to PETA to use in demonstrations.
Which career achievement are you most proud of?
Getting all car companies internationally to stop crashing baboons and pigs into walls in tests and switch to mannequins instead. Capturing the interest of young people who are embracing a compassionate vegan lifestyle.
We're always obsessing over our work/life balance – do you manage it?
I've given up. My work is a major part of my life, and I like that. I wouldn't wish to be playing video games over pulling an injured cat out of a ditch or finding the funds to support our veterinary work for "beasts of burden" in India. I do take time to walk, to hear the birds sing, to watch Formula One racing, to go on an annual holiday abroad and to laugh a lot.
How would your colleagues describe you?
Driven, determined and sometimes a bit overbearing.
Celebrity news, beauty, fashion advice, and fascinating features, delivered straight to your inbox!