Wedding Ideas: How To Throw An A-List Worthy Wedding… Yourself
From Dior dinners to superstar weddings, party planner Fiona Leahy is the authority on beautiful event design. Here's her guide, now do it yourself…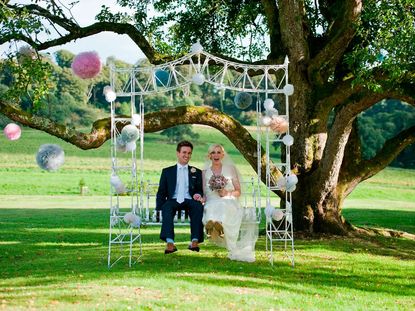 (Image credit: Fiona Leahy)
From Dior dinners to superstar weddings, party planner Fiona Leahy is the authority on beautiful event design. Here's her guide, now do it yourself…
Fiona Leahy insists that she isn't Kim Kardashian and Kanye West's wedding planner, despite spending an awfully suspicious amount of time in Versailles palaces recently. 'I've been there on lots of site meetings because I'm doing a dinner for Dior – that's all!' she laughs. 'Everyone's asking me: "Are you doing Kim and Kanye's wedding too?" I've been told they are having a party there, but not getting married. It's in a beautiful gallery with black and white floors, it's not like the most opulent room, the famous Hall of Mirrors, it's in a really pretty space that looks out onto the grounds.'
If the Kardashian-Wests haven't hired Leahy to plan their impending nuptials, frankly, they should have. Because Fiona has been designing the most beautiful A-list parties and weddings (her clients include everyone from Dita von Teese to Jimmy Choo) for almost 10 years.
An authority on everything from wow tables to thank you cards, here she tells us all she knows…
Save The Date (And Some Money)…
'An amazing printed save the date is great, but if you are low on budget and on time, you just want to get the date out there. Paperless Post have some beautifully designed cards – I particularly like Kelly Wearstler's designs for weddings. People can just click and say "yes" or "no" as well, so you get a really good idea of numbers quickly.'
The Only Theme Is You…
'Some people really like themes, but they shouldn't be allowed to take over or add unnecessary stress. This is a wedding not a branded party. When I did Dita's (Von Teese and husband Marilyn Manson's) wedding, we didn't set out to create a theme, but one evolved naturally when we began to think about ways to capture their personalities and taste. I got ideas just by being in their home and seeing what they surround themselves with - objects they think are beautiful that may not actually be wedding related. I then brought ideas, like laces or colours, together on a board to assess what the whole feeling was. You can think about all of the elements that make up your personality too - sights, textures, smells – and ways to capture all of those.'
Let Your Invitation Set The Tone…
'Before you send one, think about what sort of celebration you want to have, the location and theme – guests want to know if it'll be ball gowns and Wellingtons in the countryside or a Great Gatsby inspired do in a grand hall. We've done so many creative things as wedding invitations - little hand written notes with a magnifying glasses, nice balloons with messages attached, mini posters, or illustrated treasure maps telling the story of how the bride and groom met.'
Greet Your Guests…
'My favorite thing really is when people check into their hotels and there's a little something waiting for them. A really small personal touch, maybe the wedding is near the seaside so you leave a chocolate mermaid lollipop in every room, or there's a beautiful little booklet with all the information guests need. It doesn't need to be anything elaborate, but it's a nice way to welcome people.'
You CAN Do Your Own Wedding Flowers…
'It just depends on how big your wedding is and how much work you want to do. Be specific about what you want and stick to one or two types of flower, like for a recent Fendi dinner I did three different types of peonies in simple vases. There is work involved - you do have to condition the flowers, cut the leaves and stems. See what's in season too - if someone was getting married in the countryside in September, and there are literally fields of daisies, they could do their own flowers easily. Or sprigs of cherry blossom in the spring would look beautiful. You just don't want to be panicking about ordering things online and them coming in from another country.'
Do Your Own Wow Tables…
'If you are on a budget, colour is the way to make an easy impact. Choose three different colors for your table's scheme (it could even be three different shades of white, or silver, or white and grey) and inject them across the table. Coloured candles look beautiful and are so easy to get, or you could make your own runner with a cool fabric. I use candles like aspirin – a gazillion lit candles looks as dramatic as a flower arrangement.'
Tell Your Story…
'It's also really nice to tell stories in a table design. I once designed a dinner for Dior in London and in between the flowers we made models of Big Ben and the London Eye. You could easily create those points of interest like that on a table yourself - like if the bride is from New York and the groom from Paris, you could buy Statue of Liberty and the Eiffel Tower models from a funny tourist store. I'd spray them all in one color, so that it's camouflaged on the table and it all ties in beautifully.
For my own birthday, I found objects in charity shops that were evocative or meant something to my guests, to put on the table. A friend who owns a poodle had a mini poodle holding her place card, while a friend who lives in Paris had the word Paris.'
Don't Forget To Say Thank You…
'You just got married and there's a whole load of stuff that goes with that. You should give yourself a bit of a break. But I think it's nice to send thank you letters within a month. Sometimes people have done more elaborate things, like to send mini bouquets that replicate the flowers from the wedding - but really a beautiful handwritten note is everything. As long as you express gratitude, that's great - even a year later. Better than never at all!'
Just Married by Fiona Leahy is available to buy now.
Celebrity news, beauty, fashion advice, and fascinating features, delivered straight to your inbox!