Great British Boltholes: Lower Mill Estate, near Cirencester, Gloucestershire
Peace and easy country living are the star attractions at this lakeside retreat in the Cotswold Water Park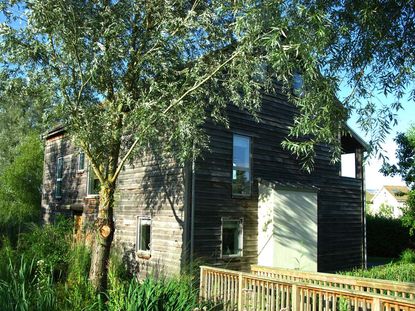 (Image credit: NIGEL TISDALL)
Peace and easy country living are the star attractions at this lakeside retreat in the Cotswold Water Park
Peace and easy country living are the star attractions at this lakeside retreat in the Cotswold Water Park
Why go? Five miles south of Cirencester, Lower Mill Estate bills itself as 'the UK's first residential nature reserve' – which neatly sums up its popular combination of well-appointed holiday homes and eight lakes rich with birds, wildflowers and wildlife. Check in here and you'll have a safe and fuss-free country break.
Rustic charm: five-bedroom Spinney Falls House at Lower Mill Estate © imagepalace.co.uk
Best for: Lower Mill particularly suits parents with active children, family/group get-togethers (but no stags or hens please!), and anyone who likes walking, canoeing, mountain-biking and birdwatching. Some may find it a bit bland – this is a gated self-catering holiday village set on flat land with a 10mph speed limit and orderly atmosphere.
The look: Covering 550 acres, Lower Mill is at the heart of the Cotswold Water Park (waterpark.org), created from disused gravel pits in the 1970s with an area larger than the Norfolk Broads. The estate attracts a vivid birdlife and has two Sites of Special Scientific Interest. The owners have also developed habitats for native wildlife such as otters, badgers and beavers, which have a protected sanctuary at Flagham Fen.
All 300-odd properties are for holiday use only, with more currently being built, and around a third can be rented. Three-day short breaks are popular, which is enough time to have a relaxing change of scene and see all there is to see. The estate has a wide variety of architectural styles, from faux Cotswolds cottage to dull terraced housing block to dream homes worthy of Grand Designs. The best resemble palatial greenhouses and look on to the water with plentiful windows to let in the light. Interiors are according to the individual tastes of the owner – for example, four-bedroom Merlin House (50 Clearwater) comes with blond wood floors, a good modern kitchen, wood-burning fire and a large outside deck looking onto a lake with swans and ducks. One downside is the dense lay-out of the village, so you'll know if your neighbour is having a barbecue, with little sense of privacy. The flip-side of this is that it leaves the rest of the estate – 400 acres of meadows, lagoons, meres and footpaths – completely free of buildings.
Lakeside luxe: contemporary interiors at six-bedroom Ferndale House
I'm hungry… This is prime online supermarket order territory – log onto your favourite supplier and get it all delivered to your door with a smile. There is a useful little shop in the old pigsty, The General Store, and the nearest pub is the pretty Baker's Arms (thebakersarmssomerford.co.uk), a mile away in Somersford Keynes. If you've something to celebrate, or want to give the chief-cook-and-bottlewasher in your household a well-deserved break, book a private chef who'll turn up with a satchel of knives and a blow-torch to cook up gourmet treats like free range pork loin with goats' cheese gratin and citrus jelly. A three-course dinner for six costs £504, excluding drinks, book through Habitat Escapes (see below).
A river runs through it: you can walk beside the Thames at Lower Mill Estate © imagepalace.co.uk
While you're there… Walking or cycling in the nature reserve is what makes Lower Mill special. Swans, herons, coots, stands of wildflowers, cute Belted Galloway cattle, wild blackberries to pick – there's plenty to enjoy, including a star-filled sky at night. A 5km running route passes through this area, and there's birdwatching hides and picnic sites. You can hire mountain bikes (£25 a day) and Canadian-style canoes (£40 a day), play tennis, and in holiday periods there are children's activities. A high point is the Lower Mill Spa, which has three pools including an open-air eco-pool (think 'refreshing'). Its staff are courteous and professional and treatments include wraps, facials and a popular hot stone massage (85 minutes, £110).
Most visitors don't stray that far, but close by you'll find the activity-filled Cotswold Country Park & Beach (cotswoldcountrypark.co.uk) and South Cerney Outdoor Centre (southcerneyoutdoor.co.uk), plus exhilarating horseriding in the hills at Greenhill Equitation (greenhillequitation.com). For high class cafes and shopping pop into Cirencester, and you're also close to the source of the River Thames – the 184-mile Thames Path (nationaltrail.co.uk/thames-path) runs through the estate.
Still waters: try to visit Lower Mill Spa when all the kids have gone...
Dress code: Country casual.
Book now: Lower Mill Estate, Somerford Keynes, near Cirencester, Gloucestershire GL7 6BG (01285 869489; lowermillestate.com). Rental prices range from £531 for a three-night break in an apartment sleeping four to £1,177 for a week in a house sleeping ten. This includes access to the spa, prices valid 5 September–31 October, book through Habitat Escapes (01285 869489; habitatescapes.com). Some properties have free WiFi, mobile reception is patchy. Kemble train station is a ten minute drive away, a taxi costs around £10.
Info: Slow Cotswolds (£14.99; Bradt) covers the region, useful websites are cotswolds.com and cirencester.co.uk.
Celebrity news, beauty, fashion advice, and fascinating features, delivered straight to your inbox!