Easy Escapes: Swedish Lapland
Kelly Preedy heads to Luleå in search of the Northern Lights – and some memorable photos to bring home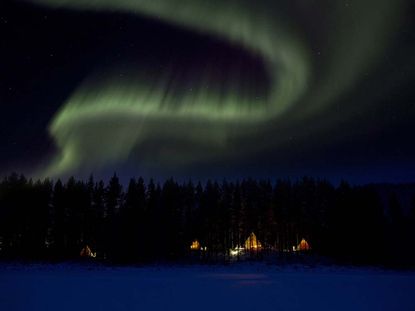 Kelly Preedy heads to Luleå in search of the Northern Lights – and some memorable photos to bring home
Kelly Preedy heads to Luleå in search of the Northern Lights – and some memorable photos to bring home
Why go? Created from fast-moving, electrically-charged particles emanating from the sun, the Northern Lights are one of nature's most spectacular and ethereal wonders. Seeing them isn't guaranteed, but northern Sweden is a superb place to give it a try – and it's also a great excuse for a snowy adventure!
When? The Northern Lights season starts in late September and runs to early April, with October/November and February/March considered optimum periods. There can be very little daylight during the winter months, so be prepared for short days and long nights – which of course helps with aurora-chasing.
Let's dance: the Northern Lights at Aurora Safari Camp © Fredrik Broman
Will I see the Northern Lights? There's a good chance, but no promises. You'll need good weather with clear skies, and to get away from rival light sources. Local conditions can vary wildly, so moving around helps. See it as a fun trip where you can enjoy lots of wintery thrills and learn about life in Swedish Lapland – and if you also see the aurora, well lucky you!
Stay at: Just below the Arctic Circle, Luleå is the gateway to Swedish Lapland. 13km from here, Jopikgården (jopik.nu) on Hindersön island is a most welcoming, traditional Swedish-style guesthouse which you can reach by ice hovercraft or snowmobile as well as road. In Gunnarsbyn, the fabulous Aurora Safari Camp (aurorasafaricamp.wordpress.com), run by the charming and knowledgeable Fredrik Broman, has accommodation in two-person lavvu tipis – very romantic but note you must keep the wood burner going all night so get ready for an alarm clock relay. You'll feel a real sense of achievement when you make it through the night... For more conventional comforts, the stylishly modern Sörbyn Lodge (sorbyn.se), in the same village, is set on the edge of a frozen lake (perfect for some starlight photography) complete with traditional Swedish sauna – divine after a long day in the snow and ice.
Cool times: get into the Swedish lifestyle at Sörbyn Lodge
You really must... Snowmobiling is an exhilarating way to travel around provided there is enough snow and not too much ice. If conditions aren't right try riding in an ice hovercraft which is fun but a bit bonkers, like being in a swirling sardine can that seems to go in every direction except forwards. You can also take a trip to the Ice Concert (icemusic.se) in Luleå and spend 45 minutes in a huge igloo listening to musicians play the classics on instruments made out of ice! It's bizarrely brilliant.
Aurora Safari Camp is full of interesting characters – try dog sledding with Richard Karlsson, an exhilarating 20 minute spin with the fluffiest, friendliest Siberian huskies (isdimma.com). Drive north and you can spend the day with Lars the Sami reindeer herder (creactive-adventure.se). Travel on his snowmobile-pulled sleigh to his family camp in the middle of nowhere and warm your frozen toes round the traditional fire while your reindeer stew is cooked as you slowly thaw. On the way back to Luleå, it's worth taking a detour to see the oldest stone church in northern Sweden at Gammelstad (lulea.se/gammelstad); while there pop in to see some locals for the wonderful tradition of fika: coffee and kannel-bullar (cinnamon buns), this one in a tiny, two-roomed, red house.
What to wear: Pack base layers made from natural fibres (wool and silk are best), good socks and a thin pair of liner gloves as you'll need to use your fingers when taking photos at night. Sunglasses and a hat that won't fall off are essential when travelling at speed on a snowmobile or dog sled. Cold weather outer clothing is provided so don't bring your own – it won't be nearly as good as theirs. Take extra camera batteries as the cold can do funny things to them, and a tripod is essential if you're serious about photographing the aurora. Good face cream and a strong hand cream are invaluable – your skin won't thank you after three hours in minus 12°C if you don't...
Team work: Richard Karlsson's Isdimma husky team at Aurora Safari Camp
Bring home: Pepparkakor(Swedish ginger snaps), liquorice (beware the salty variety if you've not tried it before) and crispbread – Ryvitas just don't cut it back home. Reindeer skins, a traditional product of the Laplanders, are a local essential but feel like a luxury – don't buy them at the airport, though. Sami craft is really colourful and if you can find some of their incredible curly-toed boots, stuff them in your suitcase and you'll never have cold feet again.
Book now: SAS (flysas.co.uk) flies from London Heathrow to Luleå via Stockholm, from £265 return in October. Simply Northern Lights (01427 700115, simplynorthernlights.co.uk) can arrange tailormade breaks. A five-night package spending two nights at Jopikgården, one at Aurora Safari Camp (with snowshoe excursion) and two at Sörbyn Lodge, costs from £1,595 per person including return flights to Luleå, transfers and half-board, based on two sharing. Optional activities include a snowmobile tour from Jopikgården with lunch (£280), a 90-minute husky excursion (£225) and a four-hour Sami cultural experience (£225). A pack-ice hovercraft excursion can be added at the beginning or end, from £375 including a night's b&b at the Clarion Sense Hotel in Luleå.
Info: Plan your trip at swedishlapland.co.uk, visitlulea.se and visitsweden.com. Northern Lights (Bradt; £6.99) is a handy guide.
Dancing on ice: an ice hovercraft is a novel way to get around
Photographing snow and the aurora... If, like me, you're a lapsed photographer (I blame the iPhone), a trip like this is the perfect way to brush up your technical skills. Get ready to shoot in tricky conditions – bright snow, freezing cold temperatures and 3am call times will really test your mettle. Here's some tips:
Put your camera on manual, it's the best way to learn how to use it.
The aurora is notoriously difficult to see, let alone shoot, so don't be disappointed if you don't catch it. The lights can register on your camera before you can see them with the naked eye, so it's worth checking the aurora forecast – follow @auroraserviceeu on Twitter for live updates.
Don't be afraid to make mistakes; snow can be very hard to photograph, particularly in bright sunlight. If your camera is on automatic all that white and light confuses the meters and you end up with dark underexposed images as the camera tries to shut it all out. This is where your manual settings become essential: try a few combinations until you find the right set, then shoot away to your heart's content.
If you just want to snap and go, put your camera on a steady surface, or use a tripod, then set it to the longest shutter speed possible (30 seconds plus) and see what you get. You may need to close down the aperture if you are letting in too much light. It's a bit hit-and-miss, but that's part of the fun.
Leica (uk.leica-camera.com) makes high class cameras that range from an entry-level digital, such as the Leica C (£550) to the more advanced X Vario (£2,150). For something exceptional, get the M Type 240 (£5,100) with a Summarit-M 50mm F.2.5 lens (£1,200).
Celebrity news, beauty, fashion advice, and fascinating features, delivered straight to your inbox!