Barbados has just announced this incredible environmental initiative
And it could not be better news for the island's wildlife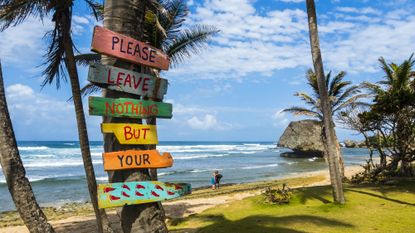 (Image credit: Photo by REX/Shutterstock)
And it could not be better news for the island's wildlife
Crystal-clear waters, white sands, Rihanna as a governmental ambassador… Barbados has a lot going for it. However, a new initiative means that the Island in the Sun will become an even more incredible place to live and visit: the Barbadian government is banning single-use plastics.
That's right - from 1st April 2019, Barbados is banning the importation, retail, sale and use of petro-based, i.e. plastic made from petroleum, single-use plastic, and from 1st January 2020, there will be a ban on all petro-based plastic bags, too (excluding single-use plastic bags used for medicine, hygiene and protection of food.)
The Minister of Maritime Affairs and the Blue Economy, Kirk Humphrey, and Minister of the Environment and National Beautification, Trevor Prescod, further explained the parameters of the ban. Humphrey said, 'Barbados has to be a value-driven country. We have large expectations for ourselves. We have said that we want to be fossil fuel free by 2030; we want to have a renewable platform; we want to be a country that when we speak to the world we speak as an environmentally friendly country and destination.'
He went on, '[Therefore] these are the things that we must do if our words and our actions are to be aligned. And so, we have made ourselves clear as to where we stand on single-use plastic.'
This ban is bound to have a positive effect on the wildlife conservation efforts of the Caribbean island. Horrifyingly, research has suggested that 52% of sea turtles worldwide have eaten plastic waste, and that for 22% of those eat plastic, it's a death sentence.
Barbados is home to the second-largest hawksbill turtle nesting population in the Caribbean, with up to 500 nesting females per year. The ban surely spells good news for them and groups such as the Barbados Sea Turtle Project that have been involved in their conversation for over 25 years.
Beautiful landscapes, rich culture and history, and now environmental pioneer? Barbados is our dream destination
Celebrity news, beauty, fashion advice, and fascinating features, delivered straight to your inbox!