Barnyard, Charlotte Street, Fitzrovia
The latest venture by Ollie Dabbous is as good as you'd expect.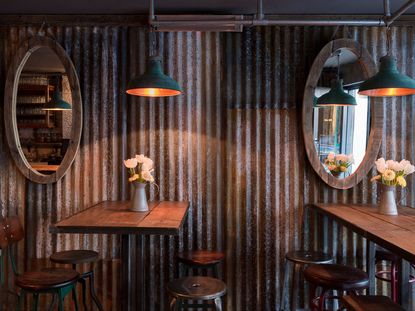 The latest venture by Ollie Dabbous is as good as you'd expect.
Have you eaten at Dabbous yet? Chances are you haven't. Trying to book a table almost feels like a full time job. So joy, then, when the hottest chef in town opened up a second restaurant in London. A super-affordable restaurant at that.
Set on Charlotte Street and with a no-reservations policy, getting into Barnyard is nearly as hard as Dabbous Part 1 - we heard that people can queue for up to three hours to get a much sought after table. We know - ouch.
Don't let this put you off, though. Choose your visiting hours wisely and a spot at this slice of rustic Americana can be yours. Before you know it, you'll be sitting on discarded oil drums and reclaimed wooden benches in what is made very convincingly to look like a corrugated iron shack.
We very strongly advice you to start your meal with one of Barnyard's shandies. We had the Country House Shandy, made up of elderflower, lemon, ginger and bourbon, which could easily prove to be a little too moreish given half the chance.
But onto the food. The menu is split into pig, cow, chicken and egg sections and seems simple. Don't be fooled. Dishes like sausage roll with piccalilli, lard on toast and mince and dumplings are anything but. The flavours are intense, interesting and often surprising.
The stand-out dishes for us (and we greedily sampled most of the menu) included the crispy chicken wings with smoked paprika, garlic and lemon and the barbecued grain-fed short rib with homemade dill pickle, mustard and black treacle.
Dessert seems just as important at Barnyard, with the popcorn ice cream and smoked fudge sauce being a must-try (once you taste the smoked fudge sauce you'll understand why... just how they get it so smoky?) Or, if you prefer you afters to be a little stronger, go for one of the shakes - we tried the malt with bourbon.
The staff are charming (my plus one flirted unashamedly with our lovely waiter), the atmosphere is lively and the food is so very interesting. Once the hype dies down, we hope, so will the queues and then Dabbous's new place will be faultless.
18 Charlotte Street, W1(020 7580 3842, barnyard-london.com), no bookings. Mon-Sat 12pm-12am, Sun 12pm-4pm. A meal for two with drinks, about £86 excluding service.
Celebrity news, beauty, fashion advice, and fascinating features, delivered straight to your inbox!