In a sex slump? There's an app for that…
As a nation, we're getting less action in the bedroom than ever – and technology could be to blame. But it may also be the answer, says Rosie Mullender, who road tests the latest sex gadgets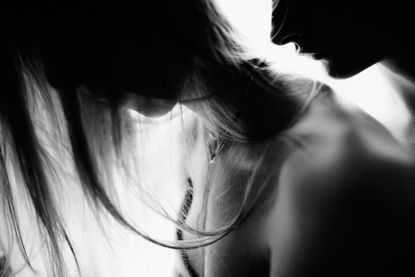 (Image credit: Getty images)
As a nation, we're getting less action in the bedroom than ever – and technology could be to blame. But it may also be the answer, says Rosie Mullender, who road tests the latest sex gadgets
There are three people in my relationship: me, my boyfriend Don, and Betty. She's the female avatar he plays with on his PS4, and I often head to bed alone, while he stays up for hours killing aliens with gamers in a different time zone. Meanwhile, I'm happily having a passionate fling with Facebook, and both of us are seeing Netflix on the side.
We're not the only ones whose sex lives have been interrupted by technology. Nearly all of us use some form before bed. Our always-on work culture is sending stress levels soaring, while online porn has been found to cause real-world relationship problems. Data analysed from the National Survey of Sexual Attitudes and Lifestyles recently revealed that sex across the board in the UK is declining, with fewer than half of British men and women having sex at least once a week. This decline is most pronounced among the over-25s, and couples who are cohabiting or married (yep, that's us). I sometimes get nostalgic about the days when we barely made it to the bedroom because the hallway was closer – rather than because we were watching 'just one more episode' on iPlayer.
But if technology is helping send the nation into a libido slump, could it also pull us out of it? Sex tech is a growing industry that is set to be worth £22m in revenue by 2020, and a new generation of toys and apps promises to help us get it on more often. So, which apps are most effective in encouraging us to reconnect with our partners instead of our screens? I asked four sex and relationship experts for their recommendations.
I thought Don would be excited by the prospect of trying them out, but when I asked him if he was up for it, he simply shrugged without looking up from his iPad. Oh dear, technology definitely owes us, big time, so let's get started…
The sex-play app
'Some apps, such as Kindu, offer a way to discover more about what you'd like to try as a couple,' says Dr Pam Spurr, relationship counsellor and presenter of the Wham, Bam It's Dr Pam! podcast. 'An app can decrease anxiety when breaking free from your sexual routine and, for some couples, lead to more honesty and confidence to experiment.'
We download Kindu (free on Android and iOS), which lists a variety of sex moves we can tag as a yes, no or maybe. Afterwards, it reveals those we're both interested in – and among the more vanilla ideas that match, such as getting a massage together, there are a few surprises. We're both keen to indulge in a spot of bondage – something we haven't tried since the early days of our relationship. It's also a relief to find that Don is equally turned off by the thought of 'hiring a professional dominatrix'.
'I was a bit worried you'd want to try things I'm totally not into,' he says, echoing my thoughts exactly, 'so it's good to see we're on the same page.' My main worry was that we'd use the app to hide behind our phones, instead of talking. But the real point of Kindu seems to be to spark conversation, which, as with so many things, is the key to great sex.
Sex factor: 7/10
The pulsing air stimulator
'Womanizer was the first company to patent Pleasure Air Technology, and because its stimulators use air, rather than direct vibration on your clitoris, they're gentler,' says sex educator Alix Fox. 'They also switch off when not in contact with your skin, making them great for couples who have children and might be interrupted.'
I order a Womanizer Premium (£169) and banish Don from the bedroom – realising that flipping through an instruction manual isn't a huge turn-on, I decide to get to grips with it alone. The stimulation provided by the unit's gentle suction and vibrations is like no other; it feels like an incredibly intense butterfly kiss. Don soon joins me and we play together. As the Womanizer is so gentle, I'm not shy to use it with him, and it leads us to be more tender than usual. Don's verdict? 'You seemed more confident and totally turned on, which got me excited, too,' he says. It feels like a very grown up piece of kit, and one we're definitely going to try again – once I find the charger, which I've lost somewhere under the bed.
Sex factor: 8/10
The mindful sex app
'Ferly is an app that helps partners find new ways of being together, which aren't necessarily sexual,' says psychosexual and relationship therapist Kate Moyle. 'Modern couples often struggle to make space to prioritise each other, and Ferly encourages them to do so.' Costing £40 for a premium annual subscription on iOS (an Android version is coming soon), the app offers podcasts on topics such as the relationship between boundaries and pleasure, a series of 'Sexy Stories,' and practical audio sessions designed to help you connect with your partner.
We try Touch-4-Touch, which involves facing each other, focusing on our breathing, then touching 'for touching's sake' – holding hands, tracing each other's faces and gently scratching each other's necks. The soothing voice on the app acknowledges this might feel a bit strange, and it does, at first. But it also encourages us to really 'see' each other in a way long-term couples don't often make time for.
Although we keep our clothes on, those ten minutes feel surprisingly intimate and really relaxing. We don't have sex afterwards, but fall asleep hugging. 'I think you're beautiful, and focusing on your face reminded me of those little details I've stopped noticing,' says Don. Which is definitely what I wanted to hear.
Sex factor: 9/10
The hands-free vibrator
'A relatively recent addition to the sex-tech field is a range of toys you can control remotely via an app,' says family therapist Stefan Walters. 'As well as being a great tool for long-distance couples, they can feel like a safe introduction if you're new to the idea of using toys together. Although I'm not a sex-toy virgin, it occurs to me that I've never used a vibe with Don (the idea makes me feel a bit vulnerable), so a remote-controlled device sounds ideal.
I order the We-Vibe Moxie (£119.99, Lovehoney), a 'cheeky remote-control clitoral vibrator', and we both download the We-Vibe app. Connecting the vibe to my phone via Bluetooth, I attach it to my knickers, leave Don in the lounge and head to the bedroom. Inviting him to join in and control the device, we warm up with a bit of chat via the app. 'New vibe, who dis?' he asks, which makes me laugh and relax. Then, he switches the Moxie on, scrolling through different vibration modes and intensities. I send instructions – 'stronger, lighter, next!' – but he has ultimate control. Eventually, my chat dries up as things get more intense, so I'm disappointed when the vibrations stop. I wonder if our connection has dropped, but then Don comes into the bedroom to take over.
Sex factor: 7/10
So, can tech really boost your sex life?
Although big fans of using hands and lips in the bedroom, and frank conversation out of it, trying out new-gen sex tech was an eye-opener for Don and I. It helped us open up about what we want, as well as providing some new sensations. Don's keen to try the Moxie again next time I'm away for work, and I'm keeping the Womanizer in my bedside-table drawer. The Kindu is a fun conversation starter, while Ferly is a reassuring space in which to explore mindful sex, and one we'll definitely be returning to. The internet might be keeping us out of the bedroom, but sex tech could also offer the tools to encourage us back in.
Celebrity news, beauty, fashion advice, and fascinating features, delivered straight to your inbox!
The leading destination for fashion, beauty, shopping and finger-on-the-pulse views on the latest issues. Marie Claire's travel content helps you delight in discovering new destinations around the globe, offering a unique – and sometimes unchartered – travel experience. From new hotel openings to the destinations tipped to take over our travel calendars, this iconic name has it covered.