I would've bet £1000 drinking mint water daily wasn't going to boost my health - but I've been pleasantly surprised
I tested for two weeks and think I've got myself a new favourite habit.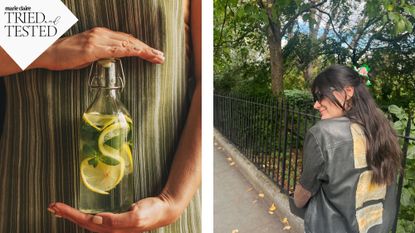 (Image credit: Sofia Piza)
As someone who doesn't enjoy fizzy drinks or drink alcohol, more often than not, you'll find me with a glass of water in hand - yes, even at the pub. So it's probably no surprise to hear that I'm always on the hunt to find ways to spruce it up - whether that's with lemon, cucumber, or berries in summer, I've even tried chia seed water (I wouldn't recommend). That's why, when our Health Editor Ally asked me to test mint water daily for a couple of weeks, I jumped at the challenge.
Search for "mint water benefits" has been steadily rising over the past year as the nation looks for simple and cost effective ways to boost their wellbeing from home. While I was fully aware it was a small change that wouldn't overhaul my health, it was a small, actionable daily habit that I knew I could stick to.
So, what benefits could I expect to see? Well, alongside increased water intake, studies have shown spearmint and peppermint to contain - albeit small - amounts of nutrients like protein and fibre, as well as minerals iron and molybdenum and phytonutrients, too. While more research needs to be done on the subject, preliminary studies suggest that these work to aid digestion and as this 2020 study suggests, help to ease IBS symptoms such as tummy pain, bloating, gas, and cramps.
I knew I'd likely enjoy the taste of mint water daily, but to say I was sceptical about noticing any of the supposed health benefits would be an understatement. But - shock - I actually did notice some changes.
More on those below, alongside more from an expert on which benefits have been scientifically proven. Keep scrolling - and don't miss how other writers got on drinking apple cider vinegar, lemon water, and ginger shots every day.
After drinking every day for two weeks, the mint water benefits I noticed were really surprising
What are the benefits of mint water?
Before testing, I set out to investigate the proven benefits of drinking mint water daily. Mint has been cited as a natural remedy for centuries, often being used as a digestive relief for bloating, gas, and nausea. As Dr. Vijay Murthy, an Integrative Ayurvedic doctor and researcher as well as a global scientific advisor for Kama Ayurveda, explains: "Preliminary research suggests spearmint essential oil might have anti-parasitic properties, and other studies indicate potential antioxidant, anti-inflammatory, and antimicrobial benefits."
Not to mention, the aroma of spearmint has a refreshing and calming effect, which can help reduce stress and refresh the mind, he continues.
Bearing this in mind, I made sure to keep a record of any benefits I noticed to my mental and physical health during testing.
How do you incorporate mint water into your daily routine?
I don't say this lightly - I never thought mint water could be as multifaceted as it is. My initial thoughts were that mint water is something that could be consumed at any point of the day, hot or cold. However, with Dr. Murthy's recommendations and through finding ways of incorporating it into my daily routine, I found different ways to make the most of this testing process.
In the morning
I love to start my morning with a warm cup of tea. I usually opt for green tea with lemon, but while testing, I switched to fresh mint tea. Spoiler alert: I really enjoyed it, and found it both a soothing and therapeutic way to start my day.
To save time in the morning, Dr. Murthy recommends prepping your mint water at night. Try this: "Allow the leaves to steep overnight in a bottle or pitcher. Mint water in the morning not only kick-starts your hydration for the day but also offers the therapeutic properties of spearmint."
During and after your meals
As a Mexican, I grew up with a huge love for what we call agua fresca. This is a traditional water-based drink that involves mixing fruits, water, and a dash of lime - basically a lighter version of juice. The concept of agua fresca is that you sip on it throughout your meals for added refreshment and vitamins.
That said, since moving to London, I've stopped drinking agua fresca with my meals. Adding mint water back into my meal times not only gave me a sweet sense of nostalgia but meant I was remembering to stay hydrated while eating.
Dr. Murphy recommends mint water as an aid for digestion, so I made a cup of mint tea after dinner most evenings, too. After even a few days, I noticed feeling less bloating after meals. Pro tip: dunk your cholate in your mint tea for a deliciously minty treat.
As a work break aid
Hands up if you often forget to take a break during busy work days? Me too, which is why I enjoyed finding the time for 5-minute tea breaks throughout this challenge. It may sound menial, but taking breaks throughout the day has actually been found to boost both concentration and productivity, a perk that I certainly noticed.
I found going to the kitchen to top up my mint water was the perfect 5-minute break. Not to mention, the mint combo was the perfect aid for any small colitis flare-ups (I often get these as a result of stress).
How I found drinking mint water daily
Week one
This week, I started off drinking mint water both morning and night. There's no clear scientific evidence indicating one being better than the other - it's simply down to personal preference depending on your own lifestyle and needs.
Personally, I found that starting my mornings with a warm cup of mint tea really helped my digestive system first thing in the morning. It helped me feel mellow and warm plus my little ritual of turning the kettle on and brewing some natural mint tea every morning began to feel really comforting.
Sure, it might not be as impactful as a sweaty HIIT workout or calming yoga flow, but it boosted my mental wellbeing and carved out some much-needed "me" time each morning.
Another top tip that I noticed pretty quickly: damp mint leaves tend to stick to your throat if enjoyed whole, so do crush or cut your leaves or sip your water through a straw if you give it a try.
In terms of digestion, added energy, and mental relaxation, I noticed some changes within the first couple of days. Generally, I was less bloated. That said, I didn't notice any significant improvements to my energy levels.
Week two
Come week two, and I was thoroughly enjoying my new routine. I continued to notice my lack of bloating - as someone who frequently has a sore stomach after meals (thanks, colitis), finding something that seemed to ease symptoms felt amazing.
The main perk of drinking mint water daily, though, came in the form of the pockets of "me" time I managed to carve out every day. No, mint water isn't going to cure all of your ailments overnight - there simply isn't enough research to conclusively confirm the supposed health benefits as of yet. That said, there is plenty of research that links taking time for self care, in whatever way works for you, and improved physical and mental health.
Will I continue drinking mint water every day?
In short, I absolutely will.
This cost-effective does-it-all herb was a great addition - it cost me just 90p a week in total - and I most enjoyed my at-home infusions of warm mint teas.
As I said above, I can't claim that mint water is a cure-all - far from it, as more research needs to be done. That said, it was a really easy way for me to boost my mental health and general wellbeing as it meant I carved out time every day to take even five minutes for myself.
In a world packed full of wellness fads that cost the earth and promise to do the same, if you're looking for a new wellness ritual or routine, I can't recommend giving this one a go enough. Will you give it a go?
How do you prepare mint water?
The simplest way is to buy a bag of mint leaves from your local supermarket or farmer's market. Keep in a cool, dry area and the mint leaves should last for up to a week. Top tip, too: mint leaves can be frozen and last for up to a year. They can also be added to ice cubes for an instant diffusion.
As Dr. Vijay Murthy, an Integrative Ayurvedic doctor, researcher and global scientific advisor for Kama Ayurveda advises, mint water is easiest to enjoy if prepared the night before or at the beginning of the week. "Allow the leaves to steep overnight in a bottle or pitcher. Mint water in the morning not only kick-starts your hydration for the day but also offers the therapeutic properties of spearmint," he recommends.
Celebrity news, beauty, fashion advice, and fascinating features, delivered straight to your inbox!
Sofia Piza is the Producer and Writer at Marie Claire UK.
After living in five countries, Sofia finally decided to settle down in London- just a mere 5,000 miles away from her native Mexico.
These days, you can find Sofia helping in all things production and scavenging the internet for the latest TikTok trends. Sofia got her start in the fashion industry working in retail and PR before taking the leap into journalism and production- living her happiest and most authentic life.