January detoxing 'futile'
Experts say that giving that up alcohol for a month after the excesses of the festive season won't make a positive difference to our health - and that a January detox is 'medically futile'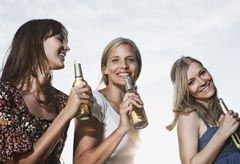 (Image credit: REX)
Experts say that giving that up alcohol for a month after the excesses of the festive season won't make a positive difference to our health - and that a January detox is 'medically futile'
The January detox is a common new years resolution after the merriment of the Christmas period but the British Liver Trust says drinkers should give up alcohol for a few days every week throughout the year to improve their health.
Despite the hype surrounding detoxing, the charity says cutting out alcohol for the month of January will not improve liver health. Experts say that a longer-term attitude to decreasing alcohol consumption is the key.
'People think they're being virtuous with their health by embarking on a lIver detox each January with the belief that they are cleansing their liver of excess following the festive break,' says chief executive, Andrew Langford.
'A one-hit, one-month attempt to achieve long-term liver health is not the way to approach it. You're better off making a resolution to take a few days off alcohol a week throughout the year than remaining abstinent for January only.'
Moderate drinking with a few days off each week will give the liver time to recover. Providing there is no lasting damage, it can repair itself in as little as 24 hours.
Dr Mark Wright, consultant hepatologist at Southampton General Hospital, says the quick fix idea of detoxing for just a month is medically futile.
'It makes as much sense as maxing out your credit cards and overdraft all year, then thinking you can fix it by just eating toast in January,' says Dr Wright: 'The figures just don't add up.'
The British Liver Trust is launching the 'Love Your Liver' campaign to encourage people to consider the health of their liver.
Liver disease used to affect mainly drinkers in middle age, but sufferers are getting younger and younger. Up to one in three adults in the UK drink enough alcohol to be at risk of developing alcohol-related liver disease.
Celebrity news, beauty, fashion advice, and fascinating features, delivered straight to your inbox!