Jab to banish body fat
A drug that attacks the blood supply to fat cells could be used to cut body fat by 40 per cent in a month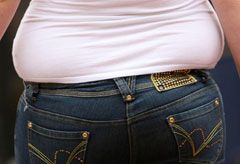 A drug that attacks the blood supply to fat cells could be used to cut body fat by 40 per cent in a month
With Britain batting the worst weight problem in Europe, scientists believe a drug that works by cutting off the blood supply to fat cells could offer a new way to tackle obesity.
If injected on a daily basis, researchers believe the medication could help people lose 40 per cent of their body fat in just four weeks.
The US team behind the new drug believe their formulation will be safer than previous diet drugs, which have been banned over safety fears in recent years, as it works directly on the body rather than the brain.
Adipotide hones in on the blood vessels that supply fat cells with blood, causing them to perish and also curbing appetite. Monkey's injected with the drug shed 11 per cent of their weight in a month.
The journal Science Translational Medicine reports that the animals also shed 39 per cent of their overall body fat and their bellies were trimmed by 27 per cent.
'Obesity is a major risk factor in developing cancer, roughly the equivalent of tobacco use,' says researcher Dr Wadih Arap. If further trials prove successful, Adipotide could be widely prescribed to obese people.
Celebrity news, beauty, fashion advice, and fascinating features, delivered straight to your inbox!